Free Fire has got its OB23 update on 29th July 2020 and brought a lot of new features to the game. With all the new features, we have a piece of good news for you that you can get the Golden skin of G18 pistol for free in Free Fire. In this post, we will share how you can claim this free skin.
After completing the first-ever ranked season of Clash Squad, on the next day of update (30th July), Free Fire has got the 2nd Ranked season. It has brought a lot of new features to the game such as self revival kit 'Horizaline,' improved aim assist, and much more. You can check out the complete changelog here.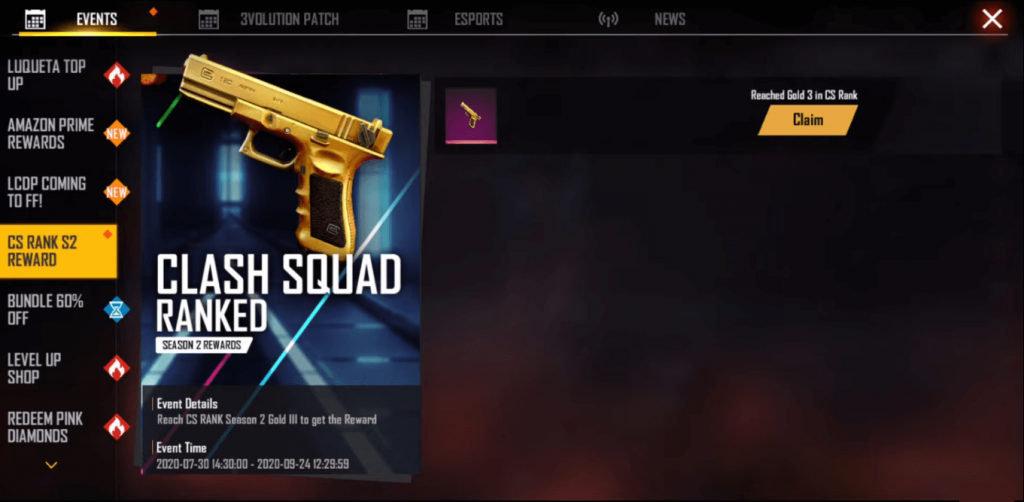 The Ranked Season 1 of Clash Squad brought 'Golden Desert Eagle Skin' as an exclusive reward for reaching the Gold III Tier. I hope you have claimed your free Golden Desert Eagle. This time in Season 2, players can claim 'Golden G18' skin for reaching the Gold III Tier. Keep in mind that your rank/tier only improves when you play Clash Squad Rank matches.
If you can't recollect the G18 pistol, let me remind you; it is the pistol that we all use in the first round of Clash Squad because we have no other option. So grabbing this skin, will definitely let you in show-off it in the first round.
There are going to be various other rewards than the Golden Skin. But these are small rewards that we hardly bother i.e., Play cards, Character Fragments, Vouchers, etc. So put all your efforts in reaching the Gold III tier to claim your Golden Skin before the season ends.
Also Read: How To Get Diamonds In Garena Free Fire
Stay tuned with Mobile Mode Gaming (MMG) for the latest Garena Free Fire News & Updates!