Free Fire has brought some offers for the players to use their diamonds in the right place. These offers include a combo of various items that include Diamonds, Characters, Emotes, Pets, and much more. Instead of buying the items individually, players should try out their hands on the offers to get a lot by spending only a few.
The offers can be accessed in the diamond section under the Special Offer tab. These are divided into two packs: Starter Packs and Value Bundles, the details of which have shared below.
Starter Packs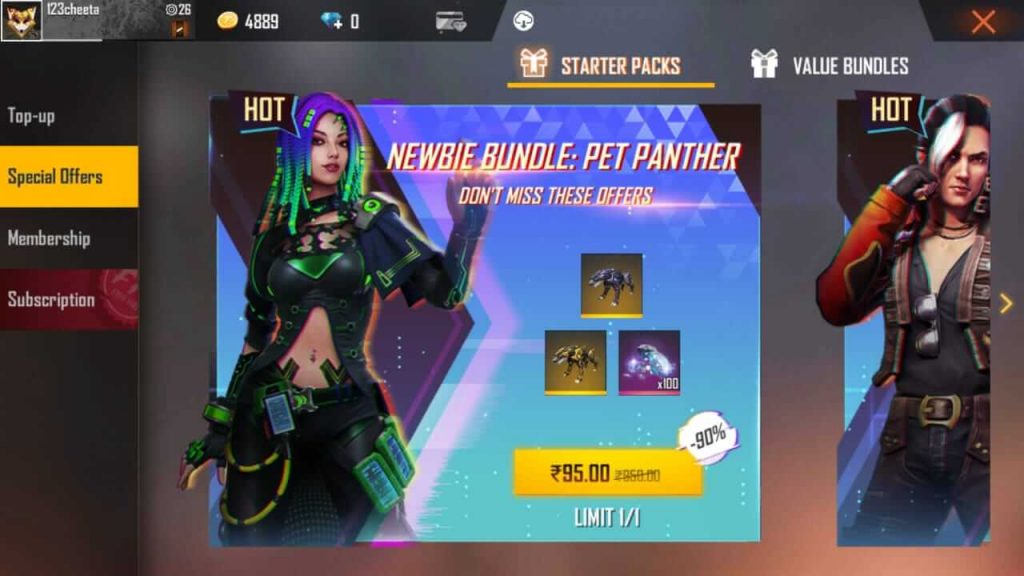 As the name itself suggest, starter packs are for those who are new to the game. In the starter packs, players get three option to choose from that includes all the required items for a new player. Here you get 90-95% discount on original price of all items. There is a limit of one-time maximum purchase on all the options available. Below are the packs you can choose:
Newbie Bundle: Pet Panther – Night Panther Pet + Golden Leopard Panther Skin + 100 Diamonds – 95 INR Only
Mixed Newbie Bundle 1 – Hayato Character + Reaper Jacket + Mechanical Pup Pet + Hello! Emote + AK47 Flaming Dragon Loot Crate – 95 INR Only
Mixed Newbie Bundle 2 – Moco Character + Heart Devil Set + Kitty + Applause Emote + SCAR – Cupid Weapon Loot Crate – 95 INR Only
Value Bundles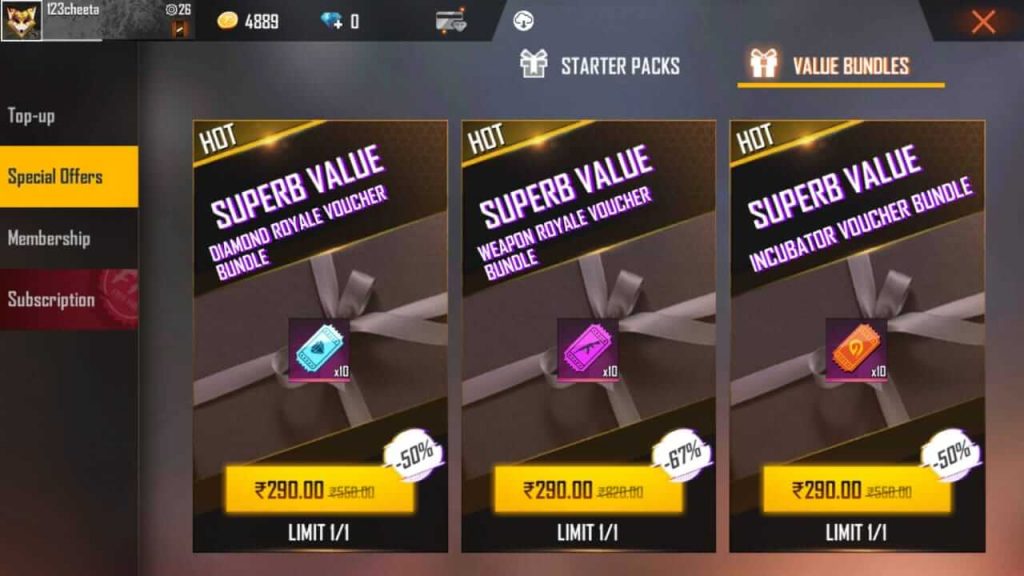 Value Bundles pack offers different vouchers to buy at a discounted price. Like the starter packs, there are three options available, each with the maximum limit of a one-time purchase. Below are the options you can choose from:
Diamond Royale Voucher Bundle: Diamond Royale Voucher (x10) – 290 INR Only
Weapon Royale Voucher Bundle: Weapon Royale Voucher (x10) – 290 INR Only
Incubator Royale Voucher Bundle: Incubator Royale Voucher (x10) – 290 INR Only
These are the two special offers currently available in the game where you can invest your diamonds to get a lot out of a few.
Also Read: How To Get Diamonds In Garena Free Fire
Stay tuned with Mobile Mode Gaming (MMG) for the latest Garena Free Fire News & Updates!