In a new move by the popular gaming developers Tencent Games, the company issued a new change in the Privacy Policy for all the Indian Users. A notification asking the players whether the user is Indian or not is beeping as soon as you log into the games.
Many players are confused about what to select. This comes amidst the Indian Government scrutinizing 275 Chinese Applications to ban, and the news surfaced that PUBG Mobile might be one of them. The players might select "I am not an Indian user" if they think that selecting this might help them play the game in the future.
However, we advise you to select "I am an Indian User" option. This is because there are chances that your personal information might be transferred to other servers present in the game. This could lead to data hacking. So you should select the option of being an "Indian User."
What is the change in Privacy Policy for Indian Users?
Tencent games in a statement mentioned that they are changing the privacy policy for all the Indian Users. This is because the Indian Government was most likely going to ban the popular game. The new privacy policy will be updated, w.e.f on 29th July 2020.
The New Privacy policy states that the information of Indian Users will be saved only in Indian Servers. This comes for countries including the USA, Hong Kong, Korea SAR, and Singapore. The developers assured that there would be no data breaching by any server.
The developers also stated that their engineers, support, and additional teams are also present in India if the users face any technical glitches. They assured that the players would enjoy a smooth experience in playing the game.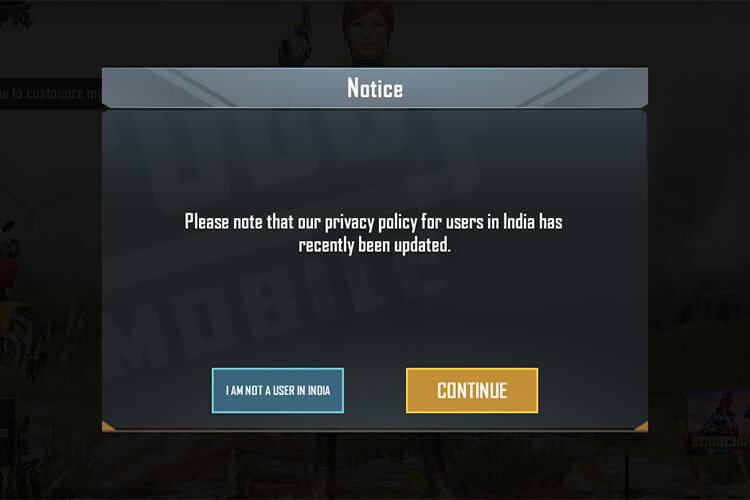 What changes will you face after updating to the new privacy policy?
You will not face any charges in gameplay. You can play the game in the same way as you played Yesterday. The only change will be that your data won't be traveled overseas and is protected under the Indian Constitution.
What is your information available with PUBG Mobile?
PUBG Mobile has wide information about its users. This is because to play with your friends; you have to log into your social media accounts. When you log in through the game, PUBG Mobile gets access to your social media accounts.
After accessing your social media, the developers also get information about your mobile devices. Information about your mobile device, IP Address, Battery, Compatibly, etc. is available with the developers. It can be very harmful if this data is breached.
So you should agree to approve with the New Privacy Policy. By agreeing to the New Privacy Policy, your information will be secured, and the chances of your information getting leaked will be very less.
Stay tuned with Mobile Mode Gaming (MMG) for all the news and updates of PubG Mobile.