Free Fire has got a new event called 'Power Balance' that is live in the game between 31st July 2020 to 6th August 2020. It can be said another event of Free Fire to fetch diamonds from the players. In this event, you need to balance the scale to get rewards, including two grand prizes.
The two grand prizes of the event are the Flashing Spade Bundle and the Blazing Heart Bundle. These two bundles show both sides. By spending diamonds, starting from 9, you make spins and charge up both sides. Each spin comes with a certain power that gets added into the side you made spin.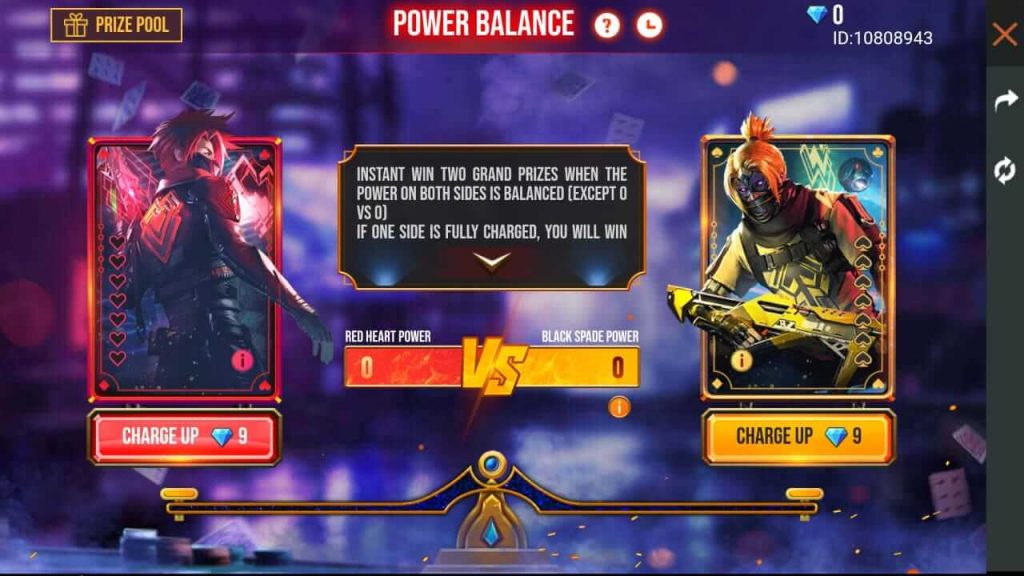 If you can balance both sides (except 0 vs. 0) in power by making spins, you get both the grand prizes at that moment. If you cannot balance, you get the grand prizes after making seven spins on that side. The number of diamonds required keeps on increasing with each spin.
Apart from the grand prize, there are various other mall rewards for each spin you made. These rewards are divided into two prize pools based on the side you make a spin. The Blazing Heart Bundle prize pool is called 'Red Heart Prize Pool,' and The Flashing Spade Bundle prize pool is called 'Black Spade Prize Pool.'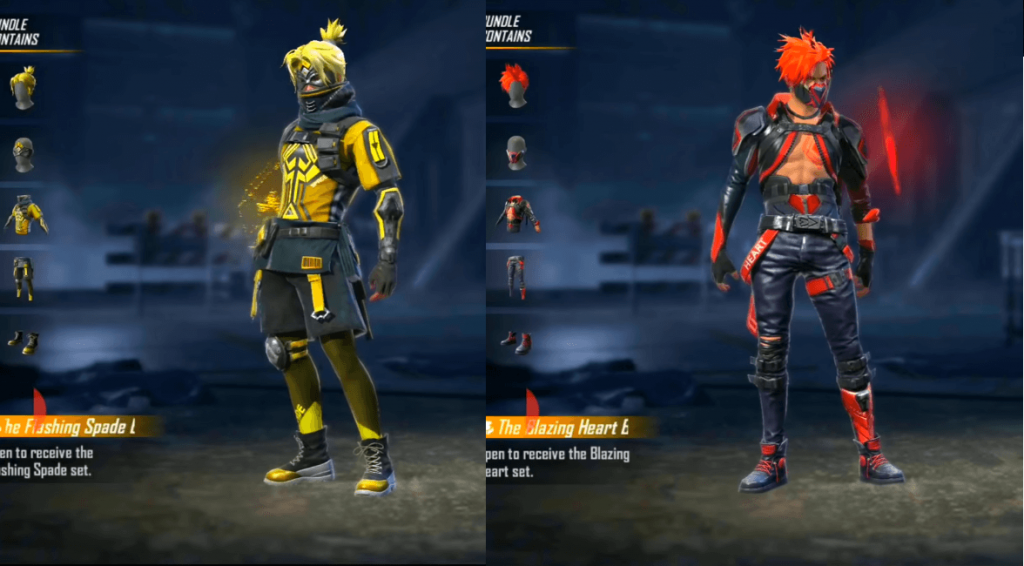 Diamonds Required For Spins
First Spin – 9 Diamonds
Second Spin – 19 Diamonds
Third Spin – 39 Diamonds
Fourth Spin – 69 Diamonds
Fifth Spin – 99 Diamonds
Sixth Spin – 299 Diamonds
Seventh Spin – 699 Diamonds
Red Heart Prize Pool
Resupply Map Playcard (3D)
Vampire Famas Box
Wings of the Devil Parachute Skin
Weapon Royale Voucher
The Devil's Blessing Parachute Skin
Vampire Backpack
The Blazing Heart Bundle
Black Spade Prize Pool
Resupply Map Playcard (3D)
Carrot-Nator AN94 Box
Diamond Royale Voucher
Falling Star Parachute Skin
Surfing Through The Stars Parachute Skin
Mr. Shark Backpack
The Flashing Spade Bundle
Also Read: How To Get Diamonds In Garena Free Fire
Stay tuned with Mobile Mode Gaming (MMG) for the latest Garena Free Fire News & Updates!