Call of Duty: Mobile is getting a tremendous response in 2020. The game's user base has increased by two-fold, and the players are actively engaging in the game. To connect the players regularly, the game developers are always coming up with new events and rewards.
The Solsctice Awakened Event and The Prizefighters are the two current ongoing events. The players can complete the missions and earn exclusive rewards. The rewards can be traded at the Exchange Center. Earlier we gave you information about the Solsctice Awakened Event, and here are the details of The Prizefighters.
The Prizefighters Event:
The Prizefighters is an event that will be exclusively available on the COD Mobile from 24th July 2020 to 3rd August 2020. The players have to compete in the Battle Royale Map and complete the listed missions. After completing missions, you will earn ranking points and exclusive rewards.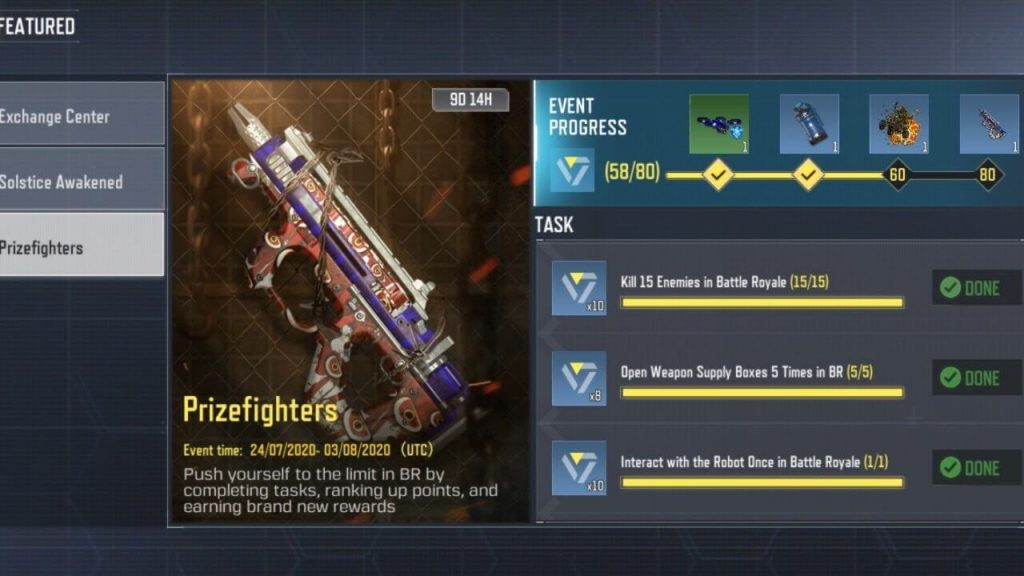 The Missions range from killing enemies at a particular location to collecting different parts at different locations. There are in all 10 missions which can be completed only in the Battle Royale mode.
After each mission, you will be rewarded XP points, and after earning a certain number of XP points, you will earn the reward. Here is the list of rewards with the info of the XP points required to attain:
20 XP: Clown- Stream
30 XP: Mechanic- Stream
40 XP: Smoke Grenade- Persisted
60 XP: Spray- Radical
80 XP: PDW-57 Sight Unseen
So gear yourselves up and play the Battle Royale Mode to earn these exclusive rewards. To check the missions, you can open the Events page at the Home Page of Call of Duty: Mobile.
Also Read: COD Mobile Crossfire Map: Best Guns, Tips & Tricks
Stay tuned with Mobile Mode Gaming (MMG) for the latest COD Mobile News & Updates!