PUBG Mobile is continuously coming up with exciting events and rewards for the players. Since the beginning of Season 14, PUBG Mobile has given some exclusive login and gameplay rewards to the players. This has boosted the enthusiasm of the players, and the game activity has increased tremendously.
The current theme of this Season, Spark the Flame, has helped the developers to design new blazing custom outfits and skins. With this latest development, they have come up with the Blazing Treasure Event. Here are the complete details of the event.
The Blazing Treasure Event:
Blazing Treasure Event is exclusively available on the PUBG Mobile App. The event is scheduled from 28th July 2020 to 18th August 2020. Exclusive rewards like special outfits and skins are available. Each reward is available in a lucky spin for 60 UC. The event is divided into two sets.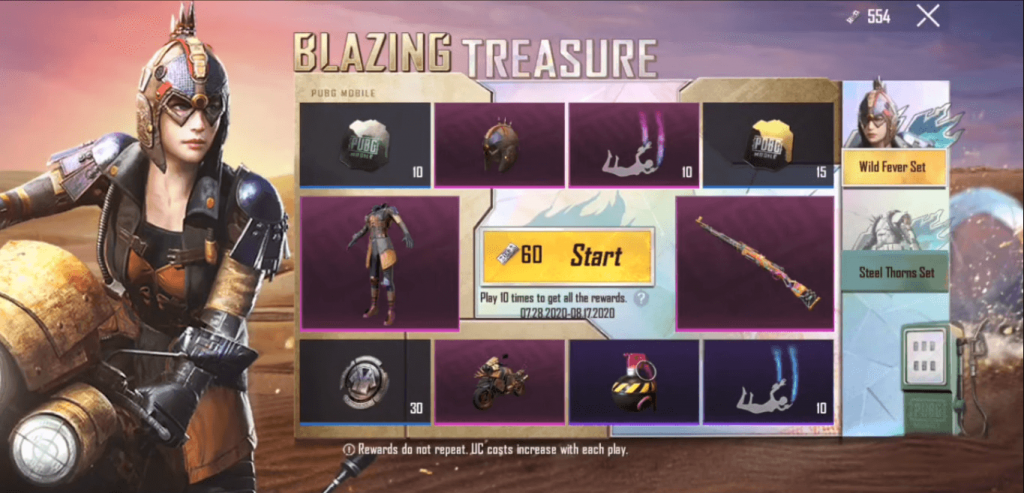 Wild Fever Set
The Wild Fever Set is an exclusive gameplay outfit. Along with this outfit, there are similar accessories and skins available. Here is the list of rewards in the Wild Fever Set:
10 Classic Crate Coupon Scrap
15 Premium Crate Coupon Scrap
30 Silver Fragments
Blue Glider Trail
Pink Glider Trail
Midnight Rose Grenade
Neon Fever Kar 98 Skin
Wild Fever Motorcycle Skin
Wild Fever Headgear
Wild Fever Outfit Set
Steel Thorns Set
The Steel Thorns Set is an exclusive brown color outfit with sharp edges. In this set too, 10 rewards are available for 60 UC each. Similar accessories and skins to the Steel Thorns Set are available. Here is the complete list of rewards:
8 Classic Crate Coupon Scrap
12 Premium Crate Coupon Scrap
25 Silver
Blue Glider Trail
Pink Glider Trail
Wanderer Parachute Skin
Wanderer UZI Skin
Steel Thorns Mask
Steel Thorns Headgear
Steel Thorns Outfit Set
So hurry up, and don't wait for the event to end. Buy UC or earn UC through online modes and take advantage of the Blazing Treasure Event.
Also Read: PUBG Mobile: Free Redeem Codes Of 2020
Stay tuned with Mobile Mode Gaming (MMG) for the latest PUBG Mobile News & Updates!