Make Ends Meet is a new puzzle game that is landed for iOS and Android devices. It is developed by Zwinzler Games and has a simple yet engaging gameplay.
In this game, the players have to draw a rope around given different colored circles of varying sizes. Seems simple right, the catch is that the rope you draw should meet the end which is a limited resource. As the level increases, you need a certain amount of colors within the rope you draw.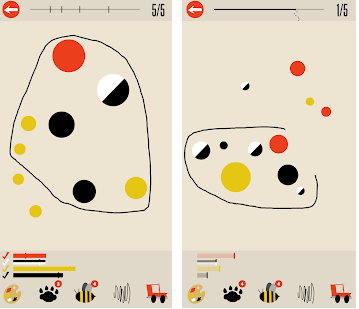 As mentioned earlier the rope is limited and you have to use wisely to achieve your target. You also have a certain amount of power-ups to help you in case of any miscalculation. One such power-up is the cat paw that helps to gather the circles without much usage of rope by swiping the circles.
The game also needs you to manage your resources wisely. If you can collect more colors at a particular level it will be saved for the future. So in case you fall short in the upcoming levels you can manage with previous bounty. If you run out of rope then there is also an option to get a loan. But remember the loan has to be paid with interest at any point. Over exploiting loans might haunt you so be careful on loans.
The game is a retro-styled anime-like with smooth jazz soundtrack for you to enjoy. Make Ends Meet is available to download from App Store and Play Store. It a free to play title for you to enjoy.