A few days ago, we reported the surprise release of Romancing SaGa Re;univerSe in the selected regions (Canada, Italy, and Singapore) by Square Enix. It was also mentioned that global release would take place on 23rd June 2020. Today the day has arrived, and Square Enix has started rolling out Romancing SaGa Re;univerSe globally for Android and iOS devices.
If you don't know about Romancing SaGa Re;univerSe, we are here for you. Romancing SaGa Re;univerSe is a Role-Playing Game (RPG) and a new chapter to the Romancing SaGa franchise. The story of the game is set after 300 years of Romancing SaGa 3, one of the most popular games of the franchise.
Romancing SaGa Re;univerSe offers story chapters as well as participation in the turn-based battles. In the game, battles are divided into three groups of enemies that you have to defeat using your team of five characters.
Before starting with the battles, you only have to choose the special skill that your team will use. There is no hurry because all the attacks will be carried out simultaneously. New skills will also get unlocked based on the skills previously performed.
The game offers new and old characters of the Sage. You have a set of different characters available to you that can be accessed through the Gacha system. As long as you recruit the best hero, you'll remember the original game where it comes from.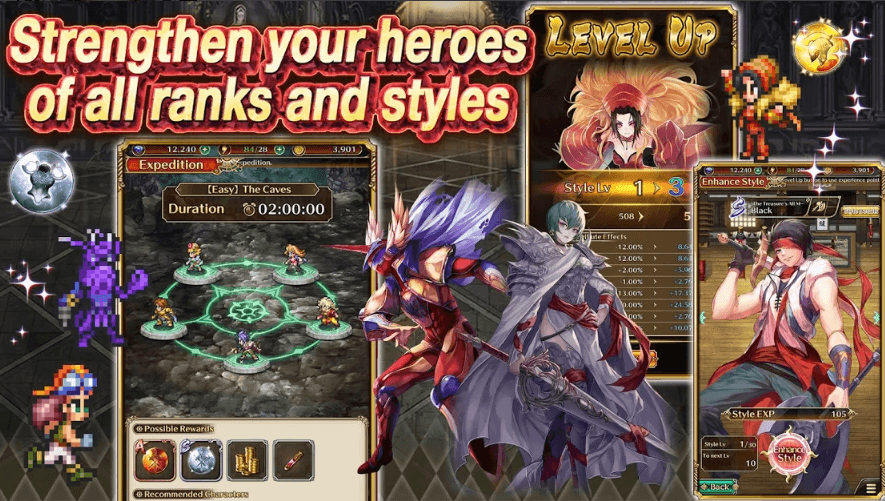 Romancing SaGa Re;UniverSe is an excellent Japanese Role-Playing Game (JRPG) with good visuals and audio. The characters of the game are also designed perfectly, which shows the hard work of the team behind it. You also get to see the pieces by legendary composer Kenji Ito.
Romancing SaGa Re;UniverSe is available to download for both Android and iOS devices on the Google Play Store and iOS App Store.
Also Read: 10 Best Upcoming Mobile Games of 2020 You Should Keep An Eye On
Stay tuned with Mobile Mode Gaming (MMG) for the latest Mobile Gaming News & Updates!