Goblin Gamer Company has released its new game called Project War Mobile. It is the first-ever mobile game by Goblin Gamer Company and seems like a great game. In this post, we are going to share the detailed game review of Project War Mobile Game.

The game has a really great story mode set up in the beginning. It explains how the virus outbreak had occurred. You will be playing as a genetically trained soldier to kill scum.
The story starts in 2018, with biotech experiments going out of hand. We, the people, have embraced genetic manipulation, and testing is well underway, even working on the genetic design of a fetus. However, the game's story jumps to 2036, where a similar genetic experiment has gone terribly wrong, and it created a cell degradation virus, which rapidly began spreading.
Human beings are affected by the outbreak and, as a result, are converted to zombies. That's when our characters come into play as we are to combat the plague. You can play the story mode of the game with your friends. Your character will first be dropped into a lobby filled with other players.
Gameplay
In the lobby, you can visit maria, who will be giving you the missions for the story mode. Once progressing through the story mode, the multiplayer mode will unlock. In multiplayer mode, you'll be playing in various modes such as Team Deathmatch, Control, Free-For-All. 
Team Deathmatch (TDM) is a 4v4 battle in which the team with the highest number of points wins. The control mode is very similar to the zone capture mode present in other video games. IN Capture Mode, you'll have to capture a particular point for a period of time, and the team with the most number of points wins the game. In Free-Fore-All (FFA), 8 players fight against each other and battle it out. The one with the most number of points wins the game.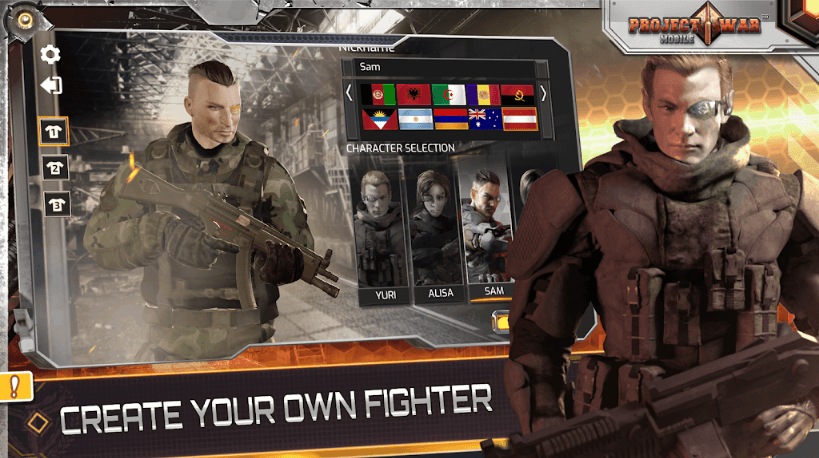 Customization
The game offers customization of primary weapons, secondary weapons, helmet, and vests. You can customize your equipment by progressing through the story mode and earn coins. Earning coins is pretty easy because you just have to progress through the story mode.
In comparison, the multiplayer mode of the game isn't that great and fails to compete with games of the same genre. However, the story mode of the game is somewhat unique and very similar to RPG games. The game does not offer much to go toe-to-toe with other games of the same genre.
Project War Mobile is available to download for Android devices from the Google Play Store.