So you are missing the good old days? When games were small in size, but provided the best gaming experience. Don't worry; We have created a list of Top 5 Classic Games on Android just for you. Select and one of these games from the list given below and enjoy the classic gaming experience on your handheld device.
The game that started it all, Sonic the Hedgehog, was the first game by SEGA featuring its spiky hero released way back in 1991. Sonic, the Hedgehog Classic, has now been ported to the mobile platform, and it's now free for all. You can simply download the game in a click, via Google Playstore.
Sonic, the Hedgehog Classic, offers eight worlds made of three levels each. As a player, you attempt to collect all the jewels from the chaotic clutches of Dr.eggman/Robotnik.
Horizon Chase is a classic 3D driving game which offers 20 cars to choose from and get on a journey to surpass all your opponents and win the race.
Horizon Chase is a free to download game. However, the free version will only include five circuits, and you will have to make an in-app purchase to unlock others. The visuals of the game are just amazing, and the game provides for an outstanding gameplay.
This game requires no introduction; the Classic PAC-Man has turned 40!. This free-to-play PAC-Man game offers new user-interface and lets all the classic gamers enjoy this famous arcade video game.
Ghosts or turn them blue by eating power and eat them too. The new mobile version of this classic game also offers weekly tournaments and token rewards.
The developers behind the Tetris mobile game has been changes multiple time, but the game remains the same. N3TWORK has just released a brand new Tetris Mobile game in 2020 itself.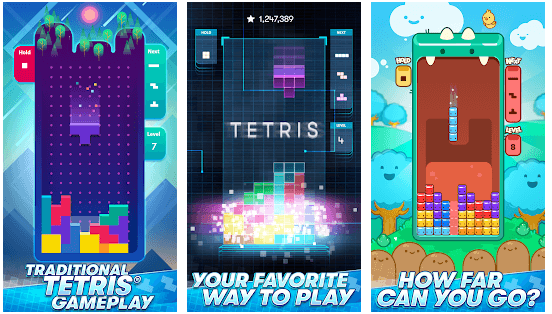 Tetris is the face behind many modern puzzle game, and also one of the most highly acclaimed video games of all time. The mobile version of Tetris offers revamped controls and new game modes.
Remember those Windows 95 days? RollerCoaster Tycoon was one of the most famous games in that era. RollerCoaster Tycoon Classic is a combination of RollerCoaster Tycoon and RollerCoaster Tycoon 2.
RollerCoaster Tycoon Classic allows you to create and run amazing theme parks. It's your chance to create the wild ride of your dreams and watch people enjoy it. RollerCoaster Tycoon Classic includes a mixture of authentic playability, depth of gameplay, and unique graphical style of the original game, now enhances for handheld devices.