Hotel Blast is a casual MMO game maintained and developed by WhaleApp LTD. WhaleApp LTD is a game developing company that is devoted to crafting compelling content to cater to any player's needs, and heart's desire, may it be casual or, mid-core games. 

The developer has made many popular games for the android platform on the play store, such as Hidden Hotel, Resort Hotel, Hunter and Rancho Blast, etc. There are great expectations from Hotel Blast as the other games in the past also did fairly well on the market.
Released on Jan 28, 2020, Hotel Blast is a game where adventure meets mystery in an exciting puzzle game!. This is the only match and blast game you will need. While Hotel Blast combines an awesome puzzle experience with a riveting storyline filled with mysterious clues, it is still fairly easy to play and fun gaming experience for mobile devices.
As you get to the hotel, you have to renovate it first. Become a detective and solve the mystery and reveal the Hotel Blast secret. The way to have as much fun as possible is to blast blocks of the same color and combine boosters to win fun Match 2 blast levels. You can even play with friends and also even get a cute pet that you get to keep and feed.
Features
There are hundreds of addictive matching puzzles to solve in this game. The more the puzzles, the more the fun. Awesome boosters and useful hints will help you succeed too. In this fun hotel building and time managing fun game, you can even evolve your hotel business.
Start your construction from scratch and work your way up to upgrade and build the hotel into a superior resort, which will be crowded by guests and celebrities. You get to watch different home decoration layout and even create your own. Unleash your inner artist and creativity with an incredible variety of furniture, lighting, flooring, and other decors!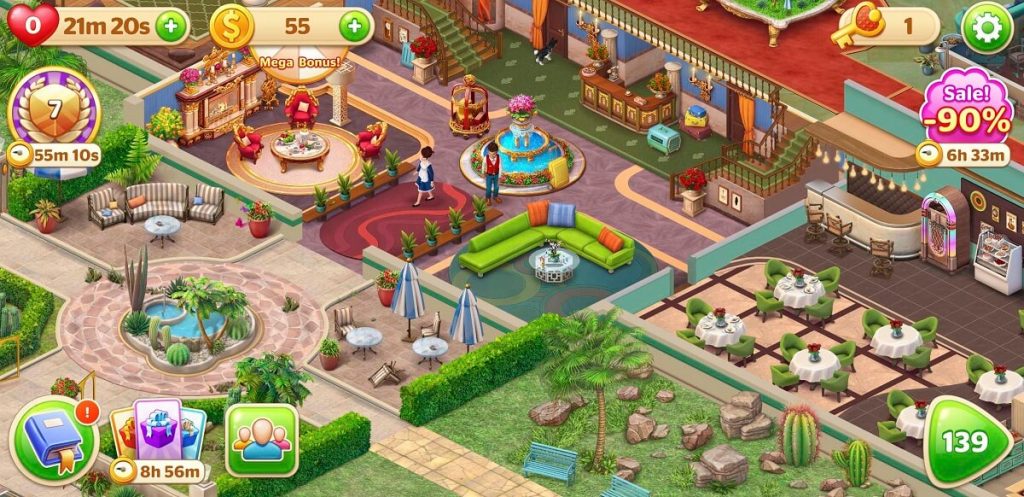 Stay tuned for constant updates with new design challenges, landscaping, building, and seasonal rewards. Enjoy the game that gives you a hybrid of match and blast puzzle. You get to meet the lovely characters and enjoy their interesting backstories and mysterious secrets.
Do not forget to take care of your own pets and to feed them. A lovely dog and funny parrot are among the wide variety of pets you can choose from in this game.
Hotel Blast is an amazing game with a lot to do in one. You can be the manager of your hotel, become a detective, own a pet, and even decorate your hotel. However, the problem is; usually, you do not get stuff for free in this game. It is heavily monetized and requires you to empty your wallets.
Hotel Blast is available to download for both Android and iOS devices from the Google Play Store and App Store, respectively.