Free fire has introduced a new event in the game called 'Wishing Well.' The developers are offering Gun Box, Backpack skin, Pet Skin, and Parachute Skin absolutely for free through the Free Fire Wishing Well Event. The Free Fire Wishing Well event is live in the Free fire between 22nd May 2020 to 31st May 2020.
As you enter the event lobby, you will get to see 4 tabs consisting of Gun Boxes, Backpack Skins, Parachute Skins, and Pet Skins. Each of the tabs has 6 options, out of which you can select only one. So, select one-one choice from all the four tabs that will be shown on the right side of your screen.
After making 4 choices, you click on the 'Enter' button that takes you to a screen with a bar on the upper side and some tasks at the bottom. You need to complete the tasks mentioned by which you get Energy points. The energy points fill the above bar, which consists of four gifts at 50 points, 100 points, 250 points, and 360 points.
The four gifts are the four items of which you made choices. You complete the tasks mentioned to get energy points that fill the energy bar. Reach the threshold of the energy bar, and you get 1 of the reward you chose. If you reach full energy level, you get all 4 prizes you picked.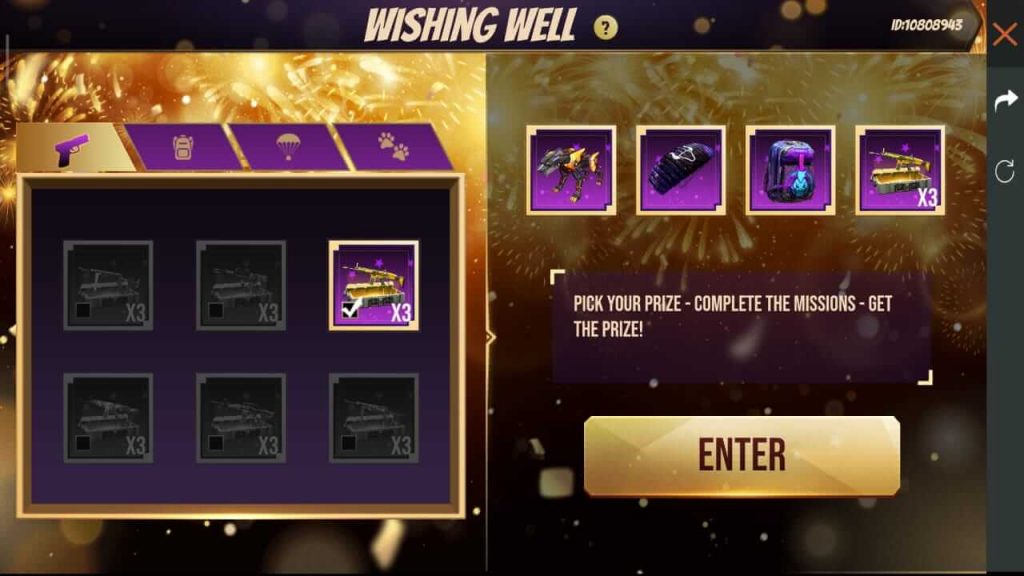 The Tasks to be completed includes:
Login – Wish Energy Points (x20)
Play 1 Game – Wish Energy Points (x10)
Play 3 Games – Wish Energy Points (x10)
Kill 3 enemies – Wish Energy Points (x10)
Reach Top 3 once – Wish Energy Points (x10)
The tasks you have to complete daily and don't forget to collect the energy points to complete the energy bar threshold. The tasks to be completed may vary daily.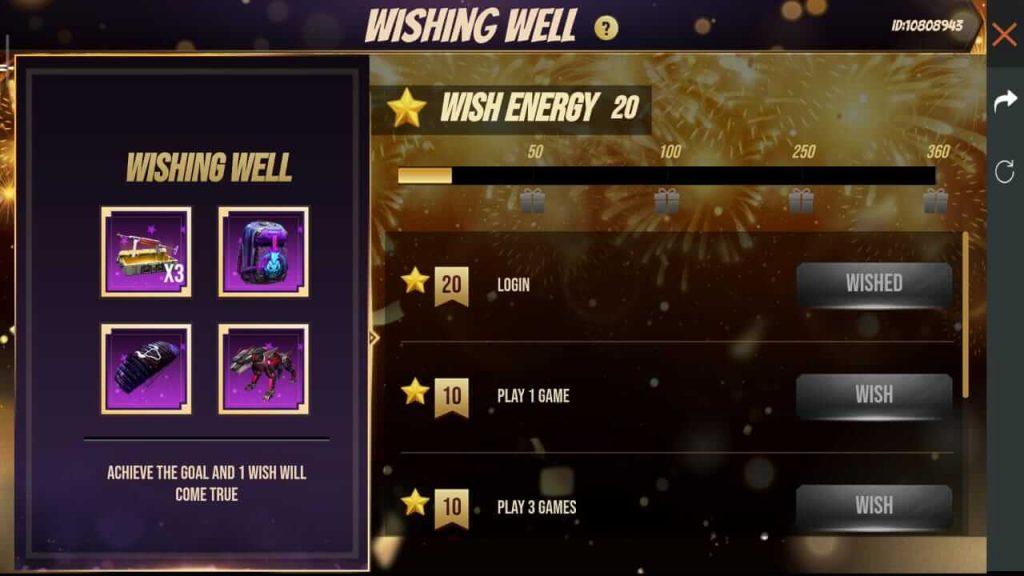 The Items Available In Prize Pool Includes:
Gun Boxes
Titanium Gun Box (x3)
Pharaoh Gun Box (x3)
Cheetah Gun Box (x3)
Violet Terror Gun Box (x3)
Flaming Wolf Gun Box (x3)
Winterlands Gun Box (x3)
Backpack Skins
Punkster Backpack Skin
Sleek Silver Backpack Skin
Happy Chicken Backpack Skin
Halloween Nights Backpack Skin
Winterlands Backpack
Bunny Backpack Skin
Parachute Skins
Summer Parachute Skin
Taurus Parachute Skin
EBI Parachute Skin
Bolt Parachute Skin
Witch's House Parachute Skin
Blood Reigning Parachute Skin
Pet Skins
Spirit Panther Skin
Lightning Bolt Panther Skin
Detective Cheetah Kitty Skin
Full Steel Pup Skin
Lucky Green Shiba Skin
Magnetic Pup Skin
Get ready to get your favorite skins for free before the Free Fire Wishing Well Event Ends on 31st May 2020.
Also Read: How To Register For Free Fire Battle Arena Tournament
Stay tuned with Mobile Mode Gaming (MMG) for the latest Garena Free Fire News & Updates!