Free Fire Spine Punk Event is in full swing, and after the Token Exchange phase, its time for the third phase of the event called 'Let's Get Punk.' In Token Exchange, you were supposed to collect Blue and Purple Skull tokens and redeem them for various rewards. Similarly, in Let's Get Punk, you are supposed to collect 'Purple Cell' Tokens and complete the Punk Bingo Missions.
First, let's understand How to collect the Purple Cell Tokens in Free Fire Let's Get Punk Event. The Let's Get Punk phase of Free Fire Spine Punk Event is live in the game from 2020-05-13 04:00:00 to 2020-05-24 23:59:59. During this period, head to Spine Punk -> Let's Get Punk – Token tab, here you get to see the various missions by completing which you get the Purple Cell Tokens.
The Missions To Get Purple Cell Tokens Include:
Play 1 Match
Play 3 Matches
Play 6 Matches
Play 1 Match with Friends
Login 1 Day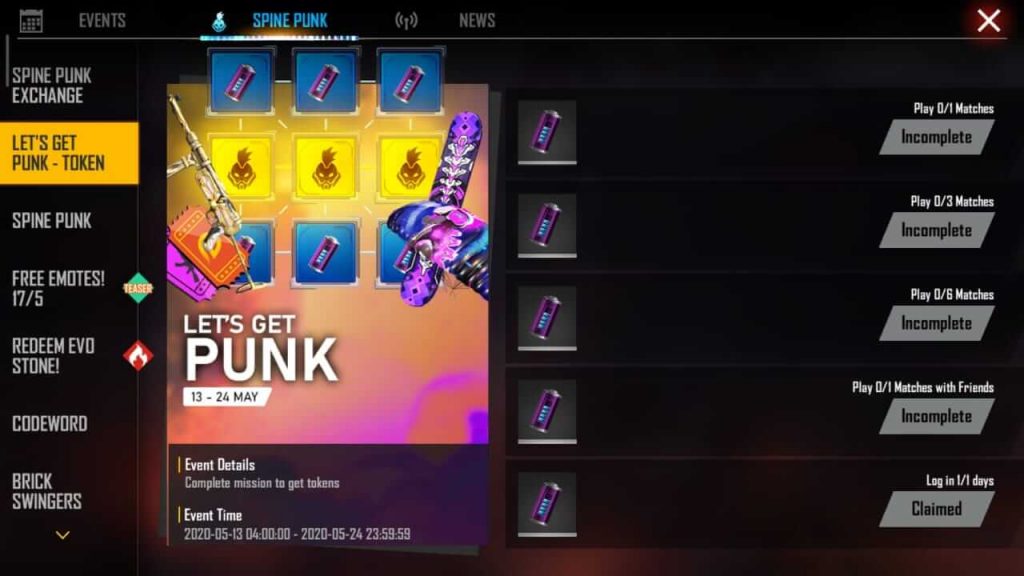 By completing the 5 missions, you get 5 Purple Cell Tokens (1 Token for each mission). During the period of 12 days, you can collect a total of 60 missions. The matches to be played can be Classic, Ranked or event Clash Squad, etc. The missions remain the same for all 12 days. Basically, to collect all the 5 tokens daily, login to the game, invite your friends and play 6 matches daily in any mode.
How To Use The Purple Cell Tokens In Spine Punk Event:
To use the Purple Cell Tokens for rewards, you need to go to the Let's Get Punk website that can be accessed through the News Section in the game. Here the first step you need to do is 'Select Your Team.' There are three options of the team available: Purple, Orange, and Blue. After that, you need to make Punk Score, that gets added into your team's Punk Score.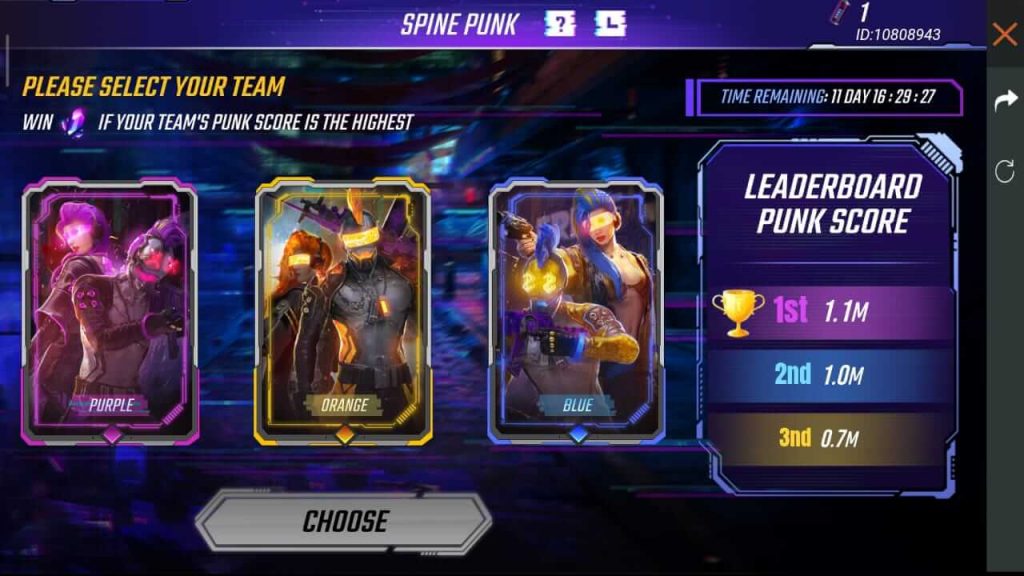 After choosing the team, you get to see a section of the 3×3 grid. You need to unlock the 3×3 punk bingo grid using the Purple Cell Tokens you earned by completing the various missions. There are rewards for each row, column, or diagonal line completion. As you all know, there are 3 vertical lines, 3 horizontal lines, and 2 diagonal lines, so you can win 8 prizes in total.
The prizes available for completion of Punk Bingo Includes:
Gold Royale Voucher – 1st Horizontal Line
Weapon Royale Voucher – 2nd Horizontal Line
Lightning Strike Weapon Loot Crate – 3rd Horizontal Line
Spikey Spine (Surfboard Skin) – 1st Diagonal Line
Lightning Strike Weapon Loot Crate – 1st Vertical Line
Weapon Royale Voucher – 2nd Vertical Line
Gold Royale voucher – 3rd Vertical Line
Street Dominance (Parachute Skin) – 2nd Diagonal Line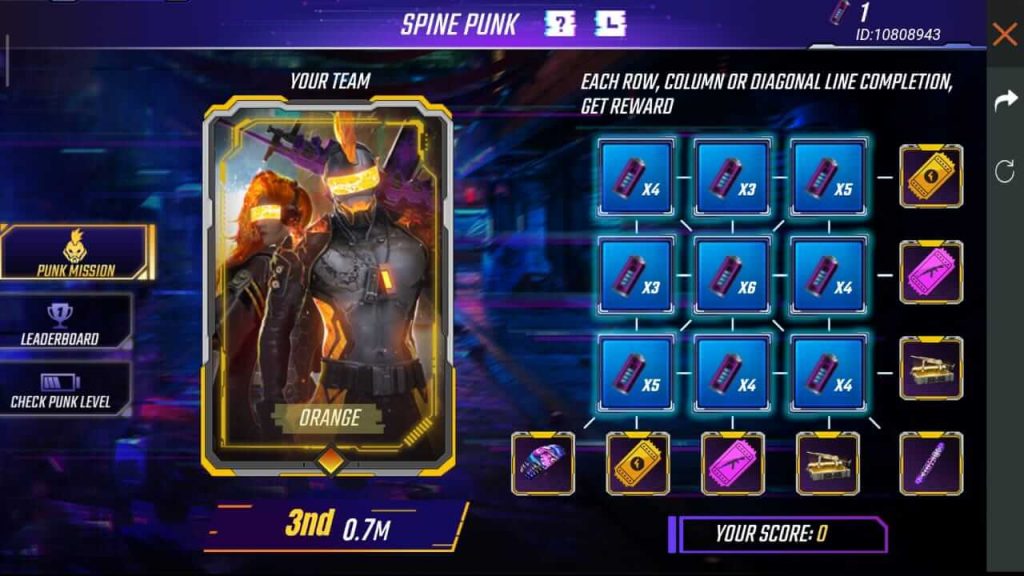 Now coming to the Punk Score part. If you open any position, you get 1 score. If you open any line, you get 10 scores. And if you open full board, you get 100 scores. You contribute these scores for the global leader-board of your team. The team with the highest score worldwide will win and get additional rewards via in-game mail.
So this is the whole process about How To Collect The Pink Cell Tokens In Free Fire To Complete the Let's Get Punk Event. Collect your Purple Cells before the event ends on 24th May and claim your Surfboard and Parachute exclusive skins. Also, don't forget to log in to the game on the peak day of Spine Punk Event (17th May 2020) to collect the Baby Shark Emote.
Also Read: How To Get Diamonds In Garena Free Fire