Free Fire has introduced a new event called 'CODEWORD' in the game. Through this event, the developers are offering legendary gun skins for free to all the participants. As the name itself suggest, in the Free Fire Codeword Event, players need to look for hidden Codeword in the image.
The Codeword Event in Free Fire is available from today (12th May) until 18th May 2020. During these 7 days, you are going to get 1 sought-after gun skin daily; the duration of skins is 7 days. To play Free Fire Codeword Event, you need to login to the game to access the website, and there you see the secret Codeword in a picture.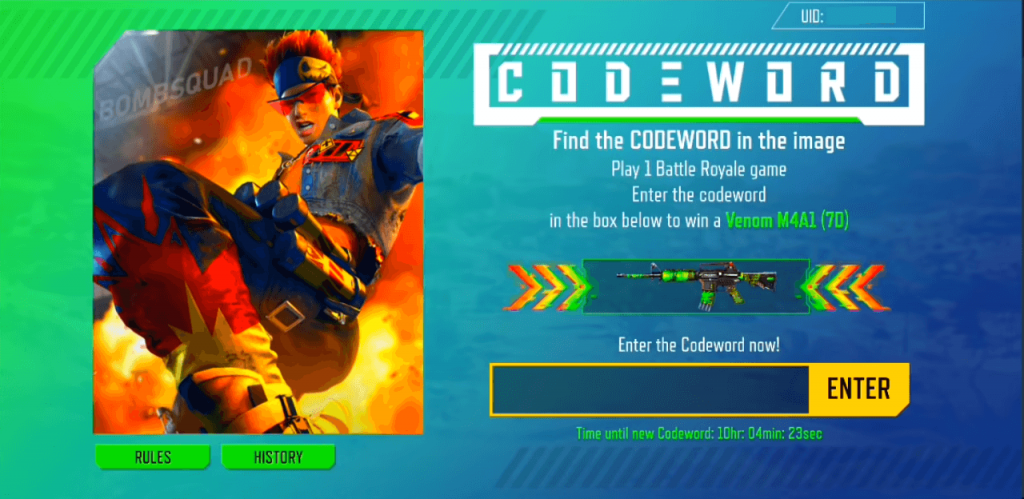 After finding the hidden code in the picture, you need to enter it in the blank space given. But first, you need to unlock the space to fill the Codeword by playing one Battle Royale Game. The one match you play can be Casual or Ranked; the only condition is, you must be alive for at least 5 minutes.
After playing one match, enter the Codeword to the box provided. All Codewords must be entered with no spaces between the characters. If you enter the Codeword correctly, you get the day's prize (gun skin). But if you enter it incorrectly, you need to play another Battle Royale game for another chance to enter the Codeword.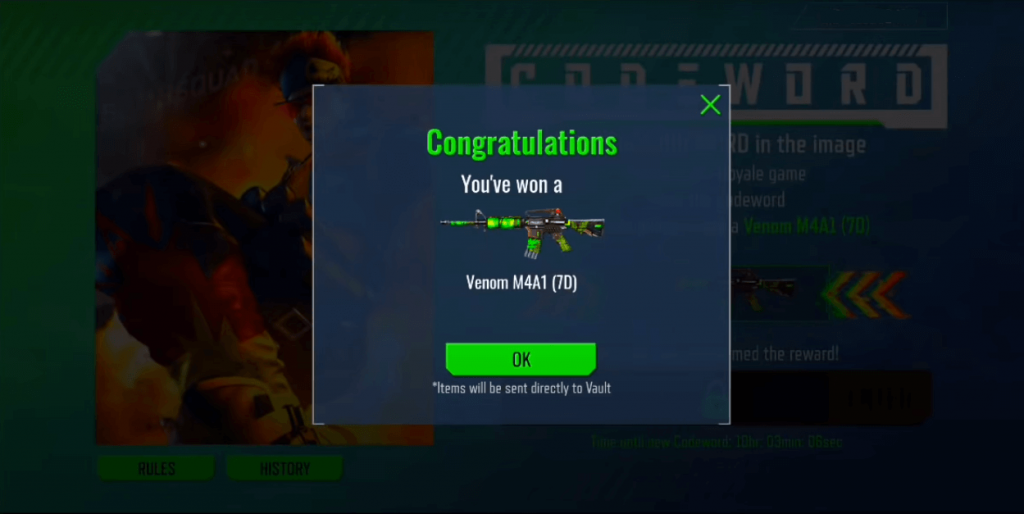 Spotting the Codeword is not a hard task; you need to be careful of typing mistakes to avoid playing one more match. The Codeword and prizes (gun skins) refresh every day. Come back every day for a new Codeword and new prize. The prizes take up to 10 minutes to get credited in your vault. Below is the list of all prizes available in Free Fire Codeword Event:
| | |
| --- | --- |
| Date | Prize (Gun Skin) |
| 12th May 2020 | M4A1 Venom (7D) |
| 13th May 2020 | AK Water Balloon (7D) |
| 14th May 2020 | Cataclysm AN94 (7D) |
| 15th May 2020 | T.R.A.P FAMAS (7D) |
| 16th May 2020 | Maniac MP40 (7D) |
| 17th May 2020 | SCAR Blood Moon (7D) |
| 18th May 2020 | Death M1014 (7D) |
If you already own the respective permanent gunskin, you will not be rewarded with the gunskin trial in your vault. Get ready for spotting the Codeword and earning the sought-after gun skins daily between 12th to 18th May 2020.
12th May 2020's CODEWORD – 'LETSGETPUNK' (To get the daily Codes, Bookmark MobileModeGaming, and visit the page daily).
Also Read: How To Get Diamonds In Garena Free Fire
Stay tuned with Mobile Mode Gaming (MMG) for the latest Garena Free Fire News & Updates!