After the Super Sale in Free Fire, the developers decided to give another chance to the player of availing up to a 70% discount on various items of the game. The developers introduced Crazy Sale in Free Fire that is offering 70% off on various items available. The Free Fire Crazy sale is live in the game from 11th May to 17th May 2020. So you do not have a lot of time to grab your favorite items at the discounted price.
During the Free Fire Crazy Sale, you can buy more and save more. Now let's start with how to get the deal. As you open the Crazy Sale from the banner, you get to see six items on your screen. You can pick and purchase all the six items. There is three amount of discount available: 50%, 55%, and 70%.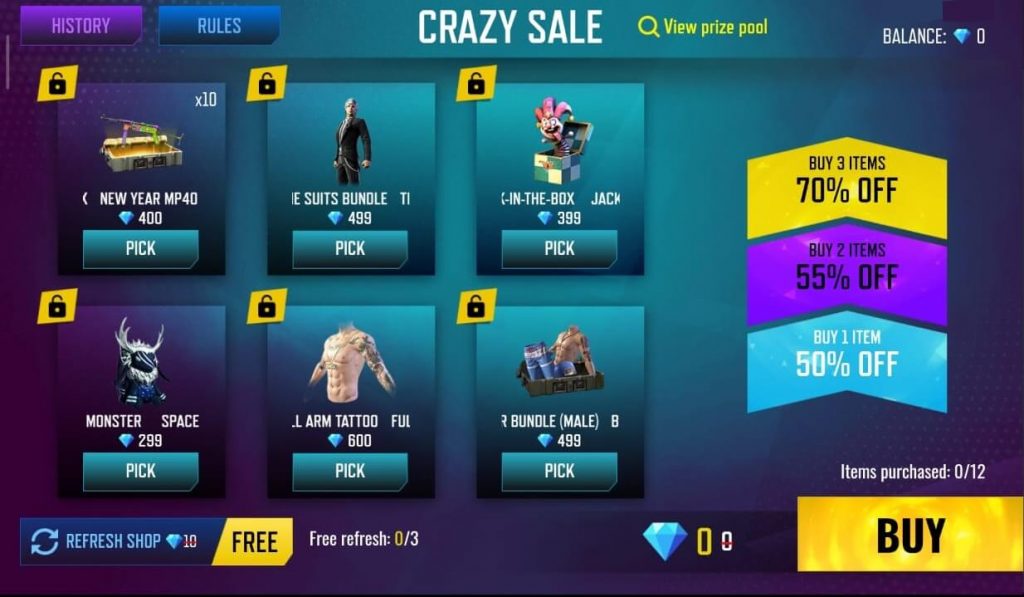 If you buy 1 item, you get 50% off. If you buy 2 items, you get 55% off. If you buy 3 items, you get 70% off. The discount offered is on the total amount, so buying three items at a discount of 70% would be cheaper than buying one or two items at a discount of 50% and 55% respectively.
If you have bought your favorite item(s) on the first screen or do not want to buy on that screen, you get the 'Refresh Shop' button. Refreshing the shop is free for 3 times, after that you need to pay 10 diamonds for every refresh. The items you have bought do not appear on the screen again. But there is a limit of 12 on the number of items you can purchase from the shop.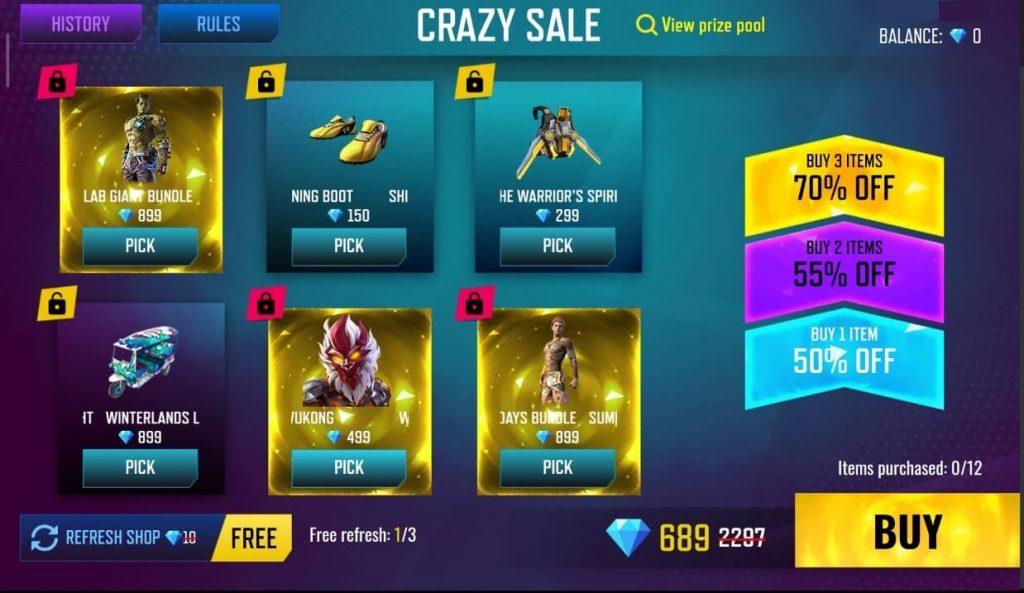 At any point of time, you can lock up to 5 items. Locked items will be kept while the rest will be changed when you refresh the items. This will allow you to carry forward one or two items you like on a page to carry forward to the next one and select one there to avail 70% discount. All the legendary items of the store are available to buy in the Crazy Sale at the huge discounted price.
The total number of items available in the prize pool of Free Fire Crazy sale is 48. So there is a high probability that it has something for everyone. Get ready to spend the diamonds in this Crazy Sale before it ends on 17th May 2020.
Also Read: How To Get Diamonds In Garena Free Fire
Stay tuned with Mobile Mode Gaming (MMG) for the latest Garena Free Fire News & Updates!