MOBA fans all around the world have been eagerly waiting for the global release of League of Legends Wild Rift. For the player unaware, let us tell you that League of Legends Wild Rift (also famous as LoL Mobile) is a fast-paced PvP mobile action-strategy game. It's basically Riot Games work on bringing the same Leauge of Legends experience on your mobile devices.
League of Legends Wild Rift was announced during a live-stream on the 10th Anniversary of Riot Games. In the same announcement, Riot Games made it very clear that they are bringing the Mobile version of League of Legends, but it will take quite some time. They asked the player not to start waiting as they have no plans to launch the game in the first half of 2020, at least.
But players are super excited for the LOL Mobile version, and they just can't keep calm. Recently one such community player found the Android Beta Sign Up Link of League of Legends Wild Rift, and the entire community has gone crazy over it.
As reported by players, everyone is now able to Sign up for the Beta version of League of Legends Mobile, and even an early access version of League of Legends Wild Rift has shown-up in Google Playstore. But as of now, no one is able to download and play the game.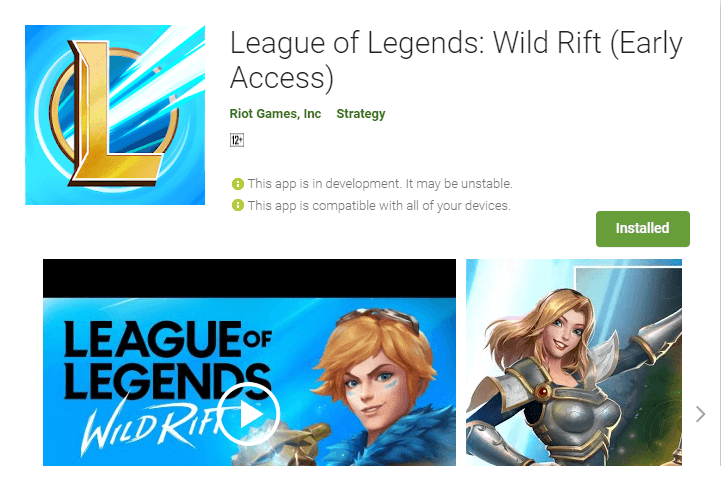 But if you still want to give it a try, Click here to Sign-up for the Leauge of Legends Wilf Rift Beta and then visit the app on Google Playstore.
According to some players, the game is only available in the Brazil regions. But this news has also not yet been confirmed. Others state that Riot Games is holding another closed Beta test of LOL Mobile just like they did it December last year. And lastly, some are calling it just a glitch.
To add to all this, recently, at the launch of League of Runeterra, the official Twitter League of Legends Latin America account commented 'Save Room on the Mobile for us, Right?'. Which further hints that something related to the launch of LOL Mobile is going on.
To conclude, Yes, some players are getting the option to download League of Legends Wild Rift in Google Playstore, some are seeing the Early Access version of LOL Mobile, but as of now, nobody was able to download it and get into the game.
So we recommend you not to go to other 3rd Party websites and try to download the game as the game is not out yet, and you will just end up downloading harmful files into your device. We will surely update you if Riot Games comes out with an official statement about LOL Mobile launch anytime in the future.
Talking of the release – League of Legends Wild Rift is schedule to launch globally at the end of 2020.
---
Also Read: 'LOL Wild Rift' Brazil Closed Beta Test Leaks