With the Massive Season 6 Update, Activision is giving everyone a fair and equal chance to take part in The Call Of Duty Mobile World Championship 2020. The First Qualifier is now live and will end by May 3.

To Participate, log-in to Call Of Duty Mobile. In the main screen of the game, click on "Ranked Match". There, click on the "World Championship 2020" tab available on the top left of the screen which will redirect you to the tournament page. Click on the Register option available at the bottom right and select your region. You are now registered for the World Championship 2020.
Players will also get an "Esports Tournament Live Now" Banner as soon as you log into the game in the first place. You can click on "Sign Up" to get redirected to the tournament page as well.
Call Of Duty Mobile: First Qualifier
As soon as you register, you will have to build up your qualification points to make it through the First Qualifier. It takes place within the first 10 Ranked Multiplayer Matches. The required minimum is 80+ points. With every 20 points, players will receive special rewards up to 80 points.
Registration Rewards- 500 Credits, Championship 2020 Frame
20 Points- 500 Credits
40 Points- 500 Credits
60 Points- 500 Credits
80 Points- 1000 Credits, Championship 2020 Avatar, Rare Championship 2020 M16
Apart from these rewards, it is also important to note how each and every winning points vary depending on the player's current Ranked Tier.
Veteran: +10 points with each win
Elite: +12 points with each win
Pro: +14 points with each win
Master: +16 points with each win
Legendary: +20 points with each win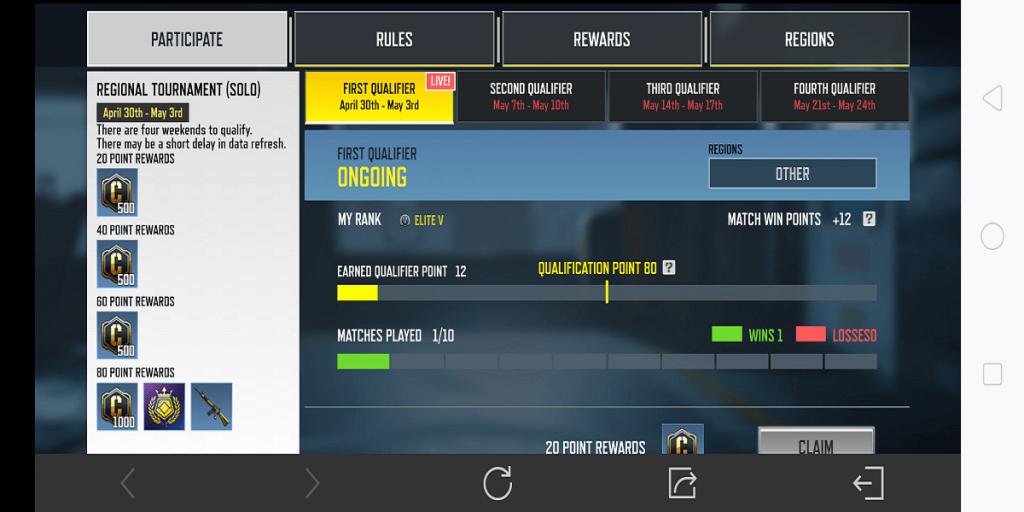 Players who have already reached a higher-ranked tier will find it much easier to pass through the first qualifier. Which is, until the Ranked Tier is reset in the next season. The Second Qualifier takes place between May 7 and May 10. There will be a total of 4 Qualifiers before you get into the Team-Up Tournaments.
Call Of Duty Mobile World Championship 2020 is the first in-game E-Sports Tournament, now live. This mega event has prizes worth 1 Million USD. Stay tuned with us for more information on the rewards of the upcoming qualifiers as The World Championship progresses.
Also Read – Call of Duty Mobile: Capture The Flag and Saloon Map To Arrive in Mid May