To combat the current Covid-19 pandemic, Saudi Arabian Prince – Faisal Bin Bandar Bin Sultan in collaboration with ESL has set up the Gamer Without Borders – an international charity gaming tournament. The tournament has a total prize pool of $10 Million. All winnings of the tournament will be donated to charities selected by the winners of the prize.
Prince Faisal Bin Bandar Bin Sultan, who is the chairman of the Saudi Arabian Federation for Electronic and Intellectual Sports (SAFEIS), had this to say regarding the decision:
Much of the world is in lockdown. Many feel helpless in response and alone. Yet the simple beauty of esports is that it is digital by design and can be enjoyed by everyone, anywhere and at any time. It has never been more relevant and now is the time for all gamers to join together and contribute to the cause.
The social media page of the tournament has announced that the first game of this week would be a PUBG Mobile tournament. The total prize for the tournament will be $1.5 Million. The tournament will consist of 6 matches/day for 4 days – 2 May to 5 May.
The tournament is being held across two regions – EU (European Union)/ MENA (Middle East)/ CIS (Commonwealth of Independent States) and South Asia/South-East Asia. The top 8 teams from each of these regions will receive a share of the $1.5M prize which they can donate to a charity of their choice. The event is international and anyone from any country can participate in it.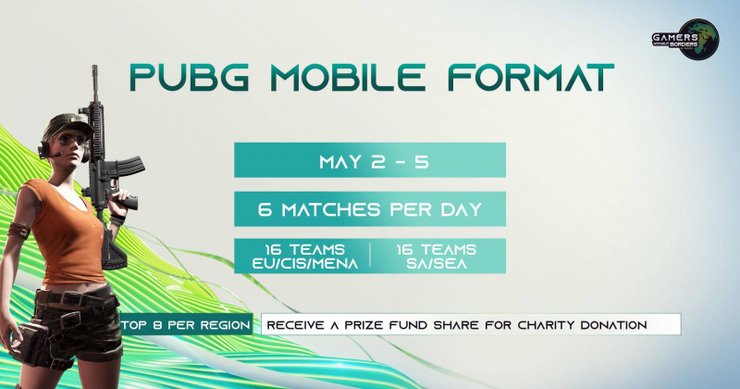 Other games which will be held in the future as part of the tournament include –
Call of Duty
Overwatch
FIFA 20
Fortnite
Clash Royale
Rainbow Six Siege
Rocket League
Apex Legends
The tournament will be live-streamed across various platforms including Twitch, YouTube, and Facebook. Also stay tuned here to get latest updates about other tournaments.