Hello PUBG Mobile lovers, are you still playing with your thumbs and somehow lacking in the game. Don't worry; we are here with the best Triggers, which you can use to play PUBG Mobile and become a Pro which you always wanted to be.
YSSHUI: PUBG Mobile Trigger Controller – 16 Shots Per Second
It is designed mainly for shooting games, as it has 16 times per running auto tap, which means while playing PUBG Mobile if you are using M16, SKS, Mini, or any other single tap or burst gun, this Controller can make it automatic. This Controller will give you a very high advantage when firing with burst guns.
It supports from 4.7-6.5 inch mobile phone of iOS and Android. In this Controller, you get two modes: Normal Mode and Multi-Tap Mode, which are available to choose by a single click. Also, it has four levels of firing rate: Level 1: 8 shots/s, Level 2: 16 shots/s, Level 3: 32 shots/s, and Level 4: 40 shots/s, which you can choose accordingly.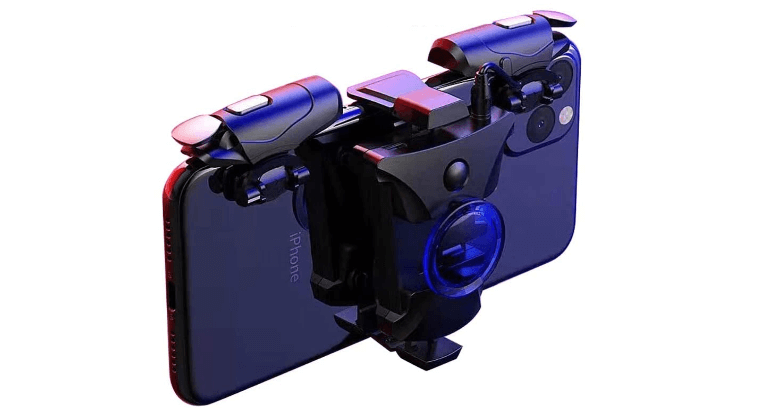 The Controller and the phone body are properly fixed from 3 contact points, which is covered with rubber pads, so no need to worry about any scratch in the phone body.
SpinBot BattleMods X1 Gaming Triggers
SpinBot Triggers comes with an Innovative Capacitive Conduction, which means it activates signal without making physical contact with the touch screen, so it takes no time to respond and also avoid any delay.
It has a premium quality built as it has ABS Material and Nickel Plated Alloy, which looks not only fascinating but also durable at the same time. Also, it has a mouse-like sensitive click, which makes your gaming experience better.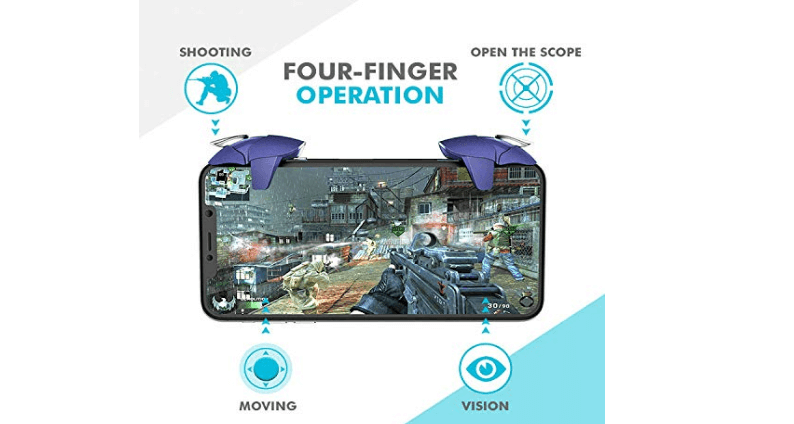 The four-finger Claw will make you pro as you can move, aim, shoot, and jump at the same time and gives you one step ahead from the other players. It has Movable eccentric clamp for a solid hold and an extra pair of big size clip for thick mobile covers.
NOYMI Trigger, Mobile Gamepad – 6 Finger Game Assistant
NOYMI Trigger comes with 4 triggers, so 6 Finger operation will give you more advantage and speed than other players in the game. The Trigger will perfectly fit your device, and it has an anti-fit rubber design, so your phone will not get any scratches.
This Trigger gives you an option to charge your phone without headphones blocking it, so you can go as long as you want. The best part of this Trigger is it does not cover your map as it triggers are placed in the top center of the screen.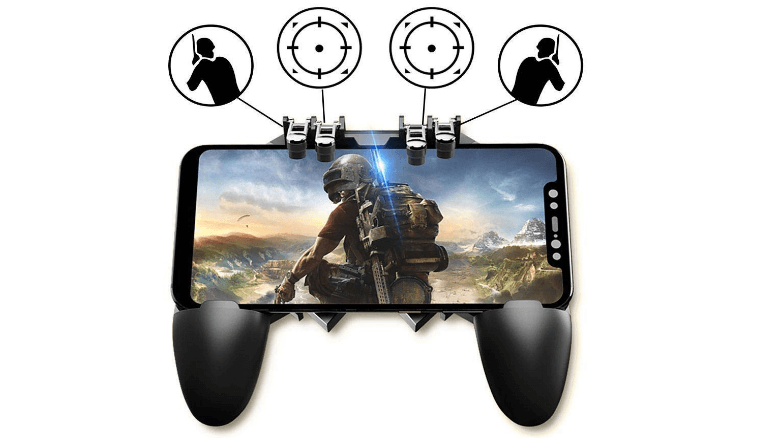 If we talk about comparability, then it works for both iOS and Android, but the screen size of the phone must be 4.7-6.5 inches.
Buy your suitable Controller to play PUBG Mobile and get ready for some Chicken Dinners in the game!