Prepare yourself to race, as Nexon's brand new mobile kart-racing game is coming soon. Starting from today, KartRider Rush+ is now available for Pre-Registration with an expected release in Q2 of this year.
The kart racing sensation enjoyed by over 300M players worldwide is back and better than ever with more style, more game modes, more thrill! Race with friends or just play it solo through a variety of gameplay modes. Collect and upgrade iconic characters and karts from the KartRider universe. Climb the leaderboard ranks and become the ultimate racing legend!
Nexon has also announced rewards for all the players who Pre-register for KartRider Rush+. However, players will need to work together to receive these rewards. Also, it is important to note that Pre-Registration on the official website of the game will only be counted for these rewards.
The KartRider Rush+ Official Website Pre-Registration Rewards are as follows:
Reach 500,000 – 500 Lucci
Reach 1,000,000 – 1,000 Lucci + 3,000 K-Coins
Reach 1,500,000 – Star Driftmoji (10 days)
Reach 2,000,000 – Angel Wing Headgear (30 days)
Reach 2,500,000 – Slugger Dao Character (30 days) + Turbo Crystal x5,000
Reach 3,000,000 – Skelemech Kart (7 days)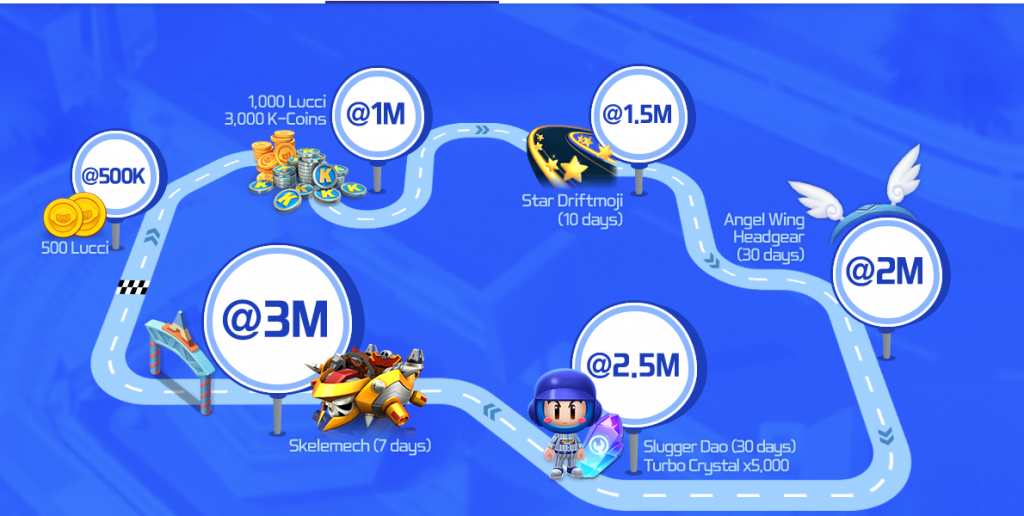 As mentioned above, Starting from today, Nexon has started taking Pre-Registration for KartRider Rush+, Players can now Pre-Register via Google Play, Apple Appstore or on the Official Website of the game.
Talking of the global release date of KartRider Rush+, it is expected that the game will go global on 31st May 2020.