Free Fire has introduced the fifth edition of Faded Wheel in the game that is live from the 17th April until 23rd April 2020. Free Fire in Faded Wheel Events offers players the various rewards, including a grand prize for making spins using the in-game currency (diamonds).

The last Free Fire Faded Wheel Event was based on the Free Fire and Ragnarok Collaboration, with the grand prize 'Assassin Cross Male/Female bundle.' The current Free Fire Faded Wheel 5.0 is offering Scarlet Flame Bundle as the grand prize of the event among various other rewards.
Playing Free Fire Faded Wheel Event is quite easy; before spinning in the event, you get to remove two items that you do not wish to get from the prize pool. There is a total of 8 rewards available that you can win in this event by making 8 spins.
Rewards Available in Free Fire Faded Wheel 5.0:
Dragon Scar Box
Notora Character
Character Level 4 Card
Double Gold Card (7 Days)
High Heels
Universal Fragment
Name Change Card
Cheongsa (Top)
Cheongsa (Bottom)
Scarlet Flame Bundle
So you can remove any of the two items from the above-mentioned list before making your first spin. You need to pay some diamonds for each spin that keeps on increasing with every spin. After each spin, an item that you win will get removed from the prize pool that increases your chances of getting the grand prize after each spin.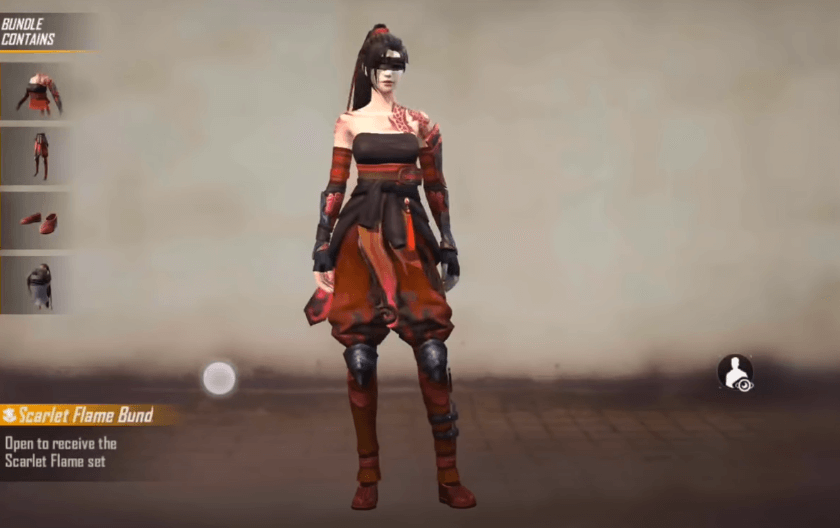 Apart from the items you get by making spins, you also get bonus rewards for 2, 4, and 6 spins. The items you earn through this event will directly be sent to your vault/collection.
Diamonds Needed For Spins:
First Spin: 9 Diamonds
Second Spin: 29 Diamonds
Third Spin: 59 Diamonds
Fourth Spin: 99 Diamonds
Fifth Spin: 149 Diamonds
Sixth Spin: 199 Diamonds
Seventh Spin: 299 Diamonds
Eighth Spin: 599 Diamonds
Extra Rewards For 2, 4, and 6 Spins:
2 Spins: Lunar MP40 Box
4 Spins: Diamond Royale Voucher
6 Spins: Weapon Royale Voucher x 2
Turn the wheel and collect your various rewards and the grand prize 'Scarlet Flame Bundle' before the Free Fire Faded Wheel Event 5.0 ends on 23rd April 2020.
Also Read: Here Is How To Write Stylish/Fancy Name In Free Fire
Stay tuned with Mobile Mode Gaming (MMG) for the latest Garena Free Fire News & Updates!