Free Fire has introduced a Wonderland Event in the game that has started from the 12th April and will be there in the game till 26th April 2020. You can check out the complete details of the Free Fire Wonderland Event.
During this event period, the coming Sunday (19th April) is going to be the main day of the Free Fire Wonderland Event. On this day, five surprises will take place in the game.
All Guns Legendary Skin Unlocked
On 19th April 2020, Free Fire will unlock all the Legendary Skins for various guns in the game. But these skins will be available only for a period of 24 hours. To collect what you just need to do is 'login into the game' on 19th April. You can collect the skins from FF Wonderland -> 19/4 Full Gun Skin Unlock tab.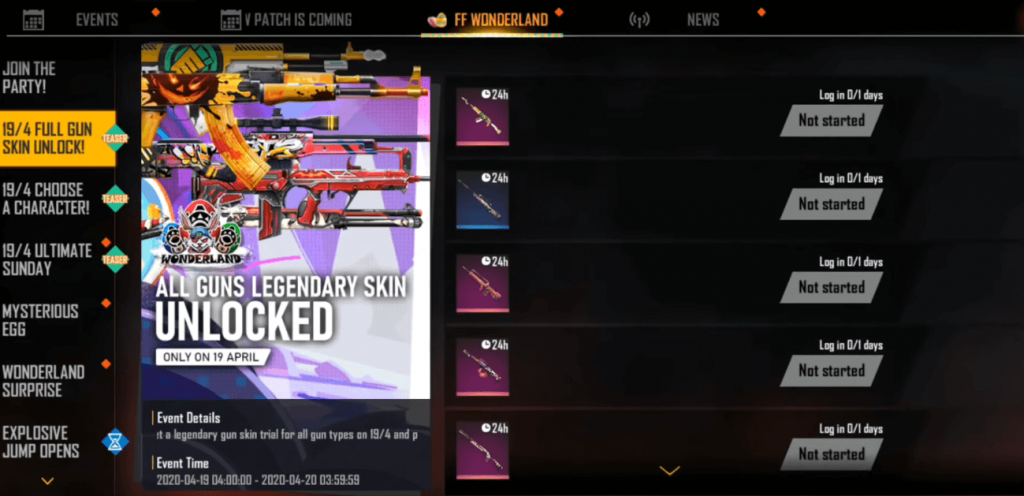 Free Character + Level 6 Card
If you log in on 19th April, you get a character and level 6 card absolutely for free. In the FF Wonderland -> 19/4 Choose A Character tab, you get to choose the character you want. The duration of the character will be permanent, so get ready to grab your favorite character.
You not only get the character, but you get the level 6 card with that, so you can level up your favorite character to level 6 instantly. If you do not want any character, here is also an option for Weapon Roayle Voucher x 3 + Level 6 Card, you can simply choose that.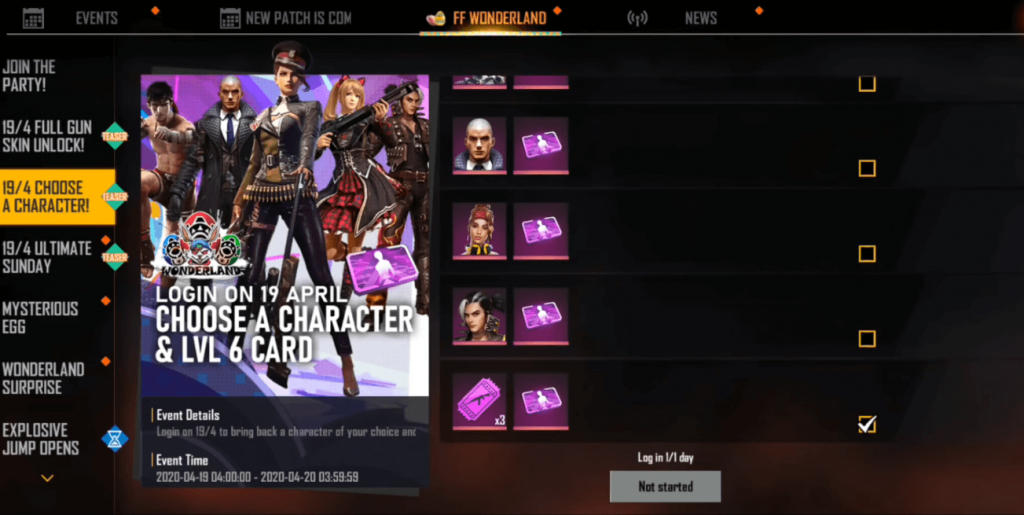 Ultimate Sunday
On 19th April 2020, you can collect four rewards in the FF Wonderland -> 19/4 Ultimate Sunday tab.
Character Fragment x 100 – Collect by playing 1 match
Awakening Shard Token – Collect by playing 1 match
UMP- Lively Beast Skin: Collect by BOOYAH 1 time in Rank Match
The duration of the rewards is permanent, so don't forget to collect them by logging into the game and by doing 1 BOOYAH in Rank Match.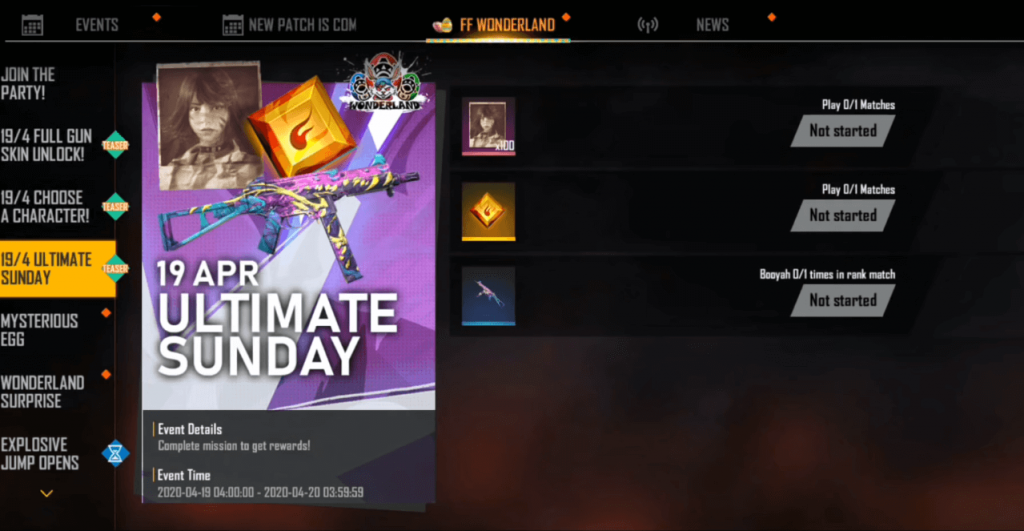 Magic Cube Fragment Match Reward
It is expected that instead of normal rewards at the end of the match, you will receive Magic Cube Fragments on the 19th April 2020. You can exchange these Magic Cube Fragments for the various rewards in the event section.
New Mode – Kill Confirmed Opens
A new mode called 'Kill Confirmed' mode will be made available in the Free Fire on 19th April. Whether it will only be available for one day or 19th is the opening day, nothing is known as of now.
The 'Kill Confirmed' game mode will see players, in a group of four, eliminating the opposition team to collect the dog tags dropped to acquire points and the team with the highest points wins the match.
Also Read: Here Is How To Write Stylish/Fancy Name In Free Fire
Stay tuned with Mobile Mode Gaming (MMG) for the latest Garena Free Fire News & Updates!