After taking pre-registrations in last month, Square Enix has released the Closed Beta Test (CBT) of its Classic JRPG 'Romancing SaGa Re;UniverSe' for players registered for the game. The Beta Test has already been started from 25th March 2020 and will end on 24th April 2020 MSK.
In this beta period, the full features of the game are not available; it offers only basic features and certain quests. So make the game your quarantine game, and don't forget to provide feedback to the developers to improve the game.
Romancing SaGa Re;UniverSe introduces to you a new chapter of the Romancing SaGa franchise. The story of the game continues the story of Romancing SaGa 3 that is also one of the most popular games in Role-Playing genre.
Romancing SaGa Re;UniverSe offers you the characters' team management and various chapters of the story mode of the game. The core of the game lies in the turn-based battles, out of which some are divided into three groups of enemies.
The combats of the game are pretty simple; you have to defeat your enemies using the special and ordinary skills of the five characters of your team. If you perform excellently in the battles, you can also unlock new skills in the combats, that can be used to turn the tide of battles.
The gacha system of the game allows you to access various characters available in the game. The cast includes both new as well as the previously known characters of the saga. The recruitment of top-notch heroes gives you a nostalgic image of the original game.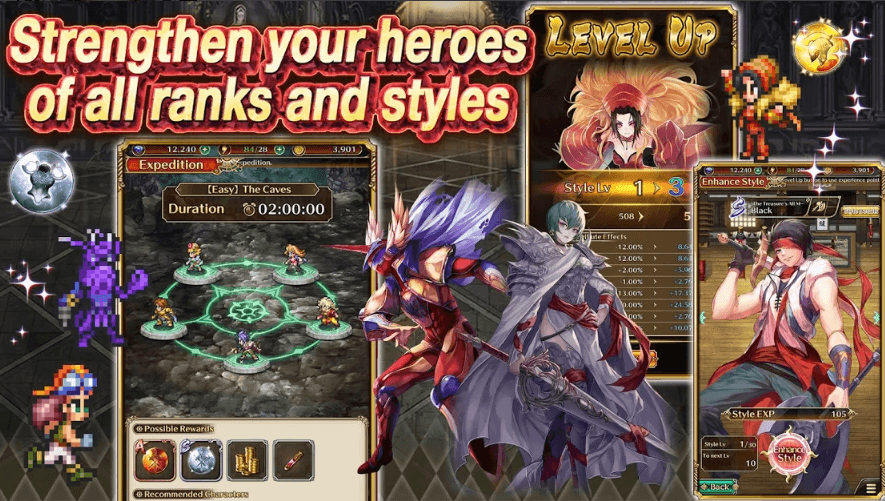 Romancing SaGa Re;UniverSe is an excellent Japanese Role-Playing Game (JRPG) with good visuals and audio. The characters of the game are also designed perfectly, which shows the hard work of the team behind it. You also get to see the pieces by legendary composer Kenji Ito.
Romancing SaGa Re;UniverSe is available on the Google Play Store for the players who pre-registered for the game.