After making its way to the iOS devices in the last October, CD PROJEKT has released its Collectible Card Game (CCG) 'GWENT: The Witcher Card Game' for Android devices as well. Initially, the game made its way to Playstation 4, Windows, and Xbox One in 2018 and later got released for mobile platforms.
The game is set in the world of The Witcher, where you create a custom deck and challenge the other online players from all around the world in real-time battles. The matches in the game generally last for around 10 minutes.
The gameplay of GWENT: The Witcher Card Game is slightly different from other games of the genre. In this game, there are only two rows instead of three, and you get the option to either play melee or with ranged attacks.
As the player starts playing the game, he gets ten cards in hand, and any of them can be played from the starting. To win the game, you need to achieve the goal of finishing the match with more points than your opponent. The strategy is key to win, and you need to learn to play with cards wisely to win the battles.
There are different cards to collect in the game that can be done by winning the battles. The various kinds of cards include soldiers, heroes, and spells. You will also get to see popular characters from the series, including Zoltan, Triss, and Geralt, each of them comes with unique abilities and skills.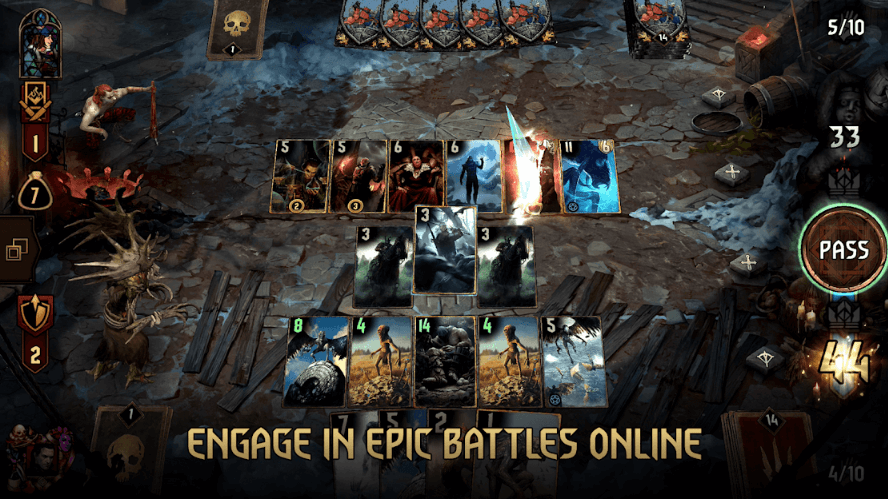 GWENT: The Witcher Card Game is an excellent CCG that manages to step out of the shadow of Hearthstone. It offers an entertaining and unique gaming experience with a control system that has been perfectly adapted for touchscreen devices. On top of all, the game has the best graphics ever seen on any mobile CCG.
GWENT: The Witcher Card Game is available for Android and iOS devices on the Google Play Store and iOS App Store respectively. Those who pre-registered for the game have also received an exclusive avatar.