Dragon Up: Idle Adventure is a game developed by East Side Games Studio. East Side Games is a Vancouver based game developing studio. This studio has blessed us with majorly popular titles like It's Always Sunny, Idle Cat Stars, and Trailer Park Boys. While it has one game adopted from the hit TV comedy, we will see how this new game of theirs performs.
Story
Long ago, there lived many Dragons. The Dragons were very happy and friendly, but there was a certain Warlock who hated the Dragons. He put a powerful spell upon them and trapped all the Dragons behind a Magic Door. 1000 years later… the last dragon egg hatched. The hope of bringing the Dragon race rekindled.
Game Play
As the gameplay starts, you hatch the last dragon egg. Now, you have to bring back the whole majestic race of dragons. The dragons eat gold. You need to tap as fast as you can to feed them gold. Feeding them would result in multiple rewards. Once your Dragon is fed, they will reward you with new items. Such as habitats, resources, and even new Dragon eggs.
Ramp up the fun of the idle game with free and addicting time-limited events. When Billy the Dragon dreams, he dreams of all sorts of epic quests to obtain the exciting new treasure. When you play through each level, you unlock more lands and exotic habitats in your idle kingdom. Your Dragons live in their nest where they make gold coins. You can upgrade your Dragons and their nests by collecting magic potions and different cards.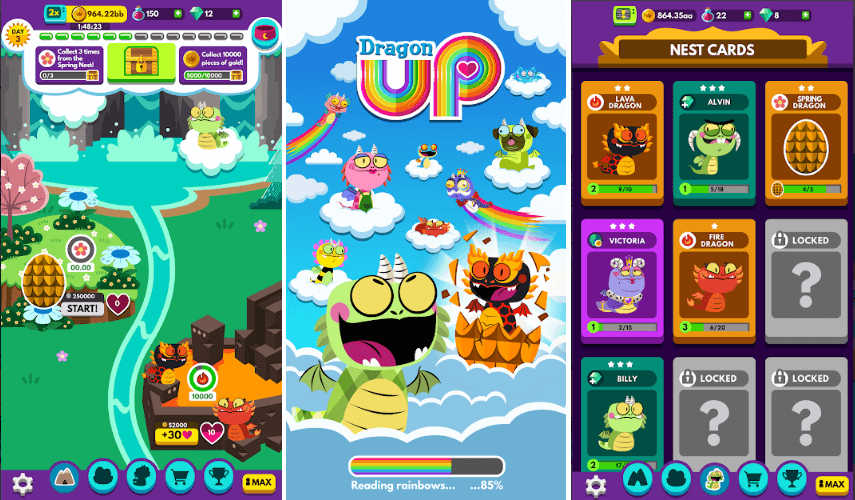 There are various types of Dragons. Blaze the Fire Dragon, Springles the Spring Dragon, and Frogger the Frog Dragon. These are common Dragons. Epic Dragons like Pug Dragon, the Queen Dragon, the Jelly Dragon, and the Robo Dragon are super rare. Epic Dragons have better rewards and money.
While the game sounds fun and has awesome graphics and sound effects, many people say that the game was much better in the older Facebook version. There have been many changes, and many people don't like it. There are also many bugs in this game. The game is also monetized and full of ads.
Dragon Up: Idle Adventure is available to download on the Google Play Store and iOS App Store.