Tencent Games has announced that they will be celebrating the Spring 2020 Event from 24th to 28th January in PUBG Mobile. During this event, players will see some Red Packets dropping from the air. However, this will only last for 30 minutes, and you can win some crazy amazing real-life awards if you are a lucky one to log-in at the right time and get these red packet. Just a heads up, the grand prize is a PUBG Mobile Level 3 Golden Helmet Worth over $500.
Here is the detailed Prize Pool For Pubg Mobile 'Red Packet Awaits – Spring 2020' Event:
Ten Level 3 Golden Helmet. (The golden helmet is created with silver and coated in gold, each such helmet is worth over USD 500)
50 Pairs of AirPods Worth USD 175 each.
Gift Cards for USD 20 each.
Btw You can also buy Pubg Mobile Level 3 Real-Life Helmets and Keychains from Amazon.
How to Win a Real Life Level 3 PUBG Mobile Golden Helmet:
So if you are wondering what you have to win this Pubg Mobile Golden Helmet, then don't worry because MobileModeGaming will help you win. In this post, we will share complete details on how you can collect Red Packets and grab yourself a chance to win Real Life Pubg Mobile Goodies. So let's begin:
From 24th Janaury 2020 to 28th January 2020, Red Packets will drop from the main menu at a specific time period.
Each drop lasts for 30 minutes, and players may collect up to 5 Red Packets.
Open Red Packets to get one of the following: BP, Silver, Classic Coupon Scraps, Golden Redemption Card, Silver Redemption Card, or Bronze Redemption Card.
Gold Redemption Card: contact customer service to get the physical Golden Helmet reward.
Silver Redemption Card: contact customer service to get a pair of AirPods.
Bronze Redemption Card: A USD 20 Google Play or App Store gift card.
Players that won the Gold Redemption Card and the Silver Redemption Card should contact customer service under Settings before 28th March 2020 and provide their shipping address for the physical rewards. Please use the #redpacket hashtag when contacting customer service for faster processing.
Gift card codes will be sent to winners via in-game mail 30 days after the end of the event. The type will be determined by the device registered.
All PUBG MOBILE players will be able to participate in this event for free with an equal chance to win a reward.
Also Read: PUBG Mobile 0.17.0 Update: Extreme Cold Mode, Death Cam, New Gun DBS & Much More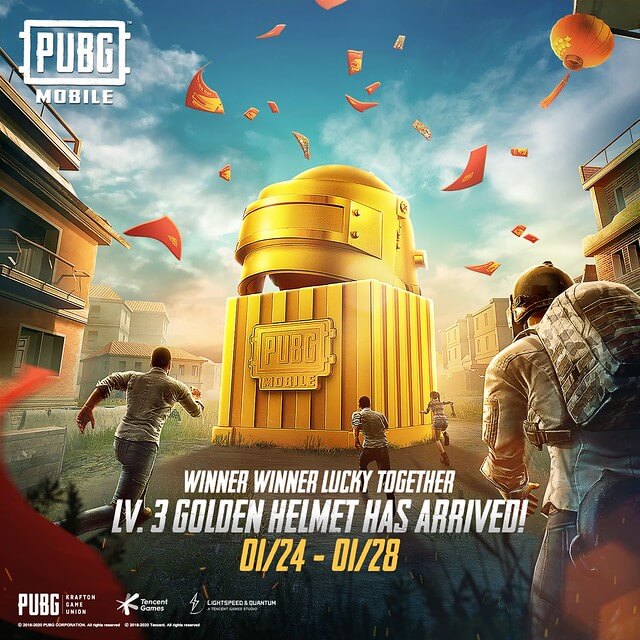 At What time will Red Packets Drop-in Pubg Mobile?
As mentioned above, the Red-Packers will only drop for 30 minutes each day. So what is that secret time when this Red-Packers will drop? Well, MobileModeGaming is very grateful for its reader, and we will never think twice to reveal anything to you guys. So below mentioned is the scheduled time when Red Packers will drop in Pubg Mobile.
| Date | Time |
| --- | --- |
| 24th January 2020 | 15:30 UTC – 16:00 UTC |
| 24th January 2020 | 12:00 UTC – 12:30 UTC |
| 25th January 2020 | 12:00 UTC – 12:30 UTC |
| 26th January 2020 | 12:00 UTC – 12:30 UTC |
| 27th January 2020 | 12:00 UTC – 12:30 UTC |
| 28th january 20200 | 12:00 UTC – 12:30 UTC |
Note: On 24th January 2020, Red Packets will drop two times in the game, while on other days, Red Packets will only drop once each day in Pubg Mobile. You can also read more details about the event on the official PUBG Mobile Website.