The King Of Fighters ALLSTAR is all set to release on 22nd October 2019, and for the same, the developers are leaving no stones unturned for the promotion of the game. For the sake of a massive campaign, The King of Fighters has collaborated with Rule of Survival.
From today onwards, Rules of Survival players can choose to play as 1 of the 5 legendary King of Fighters. The 5 fighters are namely: Terry Bogard, Mai Shiranui, Iori Yagami, Kyo Kusanagi, and Athena Asamiya. Not only this but the game has also included The King of Fighters Items as Kyo and Lori's exclusive sports car, stickers, avatar frames, themed weapons, etc. And lastly, there is a new mode in Rules of Survival now 'The King of Fighters Mode' in which players can choose to look like their favorite character from The King of Fighters and use similar abilities.
Also Read: 'The King Of Fighters ALLSTAR' Will Release On 22nd October 2019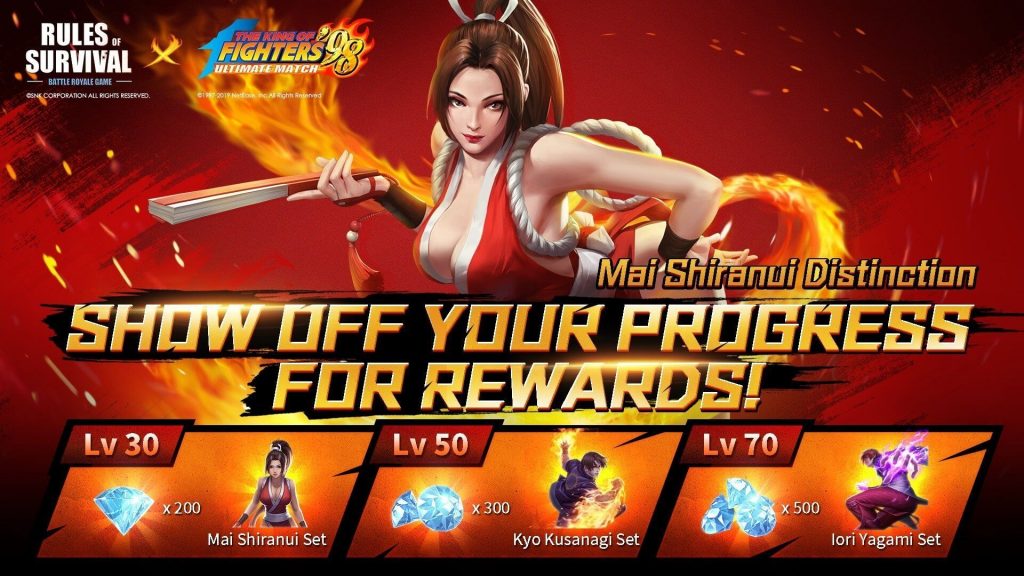 ---
About Rules of Survival: Rules of Survival is a free-to-play, multiplayer online battle royale game developed and published by NetEase Games, first released via beta access in November 2017. By October 2018, the game had reached 230 million players worldwide.
About The King of Fighters: The King of Fighter is an upcoming 'beat'em up' mobile game with the odd touch of Role-Playing Game (RPG), in which you get to play with the characters from the King of Fighters saga. The game is scheduled to released on 22nd October 2019.