Hey Guys!! We are back with another game review. If you guys love to play thrilling shooting games with lots of modern action then this one is for you. In this post, we are going to share a game review on a very unique War Robots. This is a very modern shooter game developed and published by Pixonic. This game is also known as Walking War Robots. It is a third-person shooter with real-time PvP battles in Multiplayer Online Battle Arena mode. The game is too popular among gamers. The game is having a very good gameplay and in-game surroundings. In this game, you have to operate a robot to destroy the enemy robots to earn the beacons. The game is loaded with many robots and maps to make it super interesting. The graphics and sound of the game are really quite impressive.

I really don't think that you would be easily fed up with this game as the game has over 50 robots which you can operate as a pilot for the battle. As you go through the game you would be able to unlock the robots having certain abilities and unique design. Customize. Each robot can be fitted with weapons and modules of your choice. You can also customize your own robot. Each robot can be fitted with weapons and modules of your choice. Find your favorite combo and show everyone what you've got. The main objective of the game is to destroy enemy robots you can do it all with the massive selection of weapons, including ballistic missiles, plasma cannons, and giant shotguns.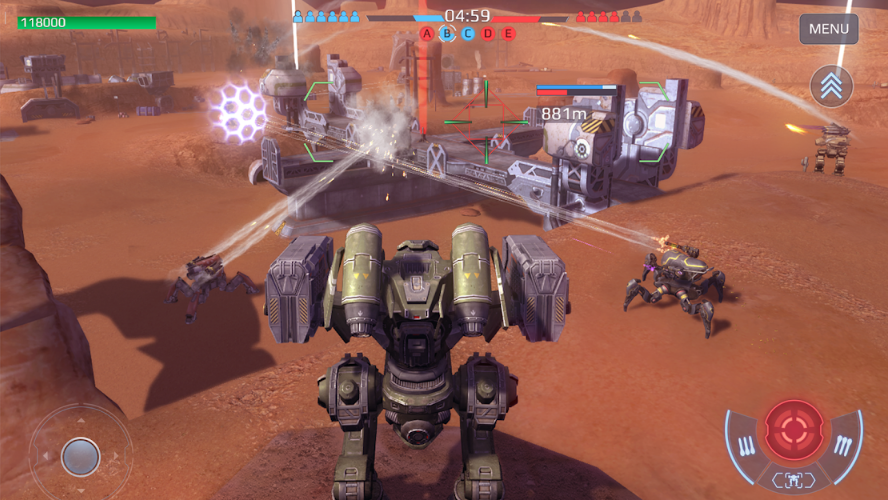 The game has 12 maps with different surroundings in which the players are randomly placed in those maps to battle against other players. There are many modes available in game-like quick match, team deathmatch and many more. It works on the matchmaking in which there is a battle of 6v6. You can also battle together in multiplayer. Team up with other people and join a powerful clan to find trusty friends and partners to turn on the battle in your favor. There are also many rewards and bonuses which are earned by completing military and ongoing event tasks. There are in-game purchases of items which I felt was quite expensive. Also, as the game is quite big it got glitches at controls and during movement of the character. War Robots is available to download on both Google Play Store and iOS App Store.
The Review
War Robots
War Robots is a free-to-play action game from Pixonic. This game is basically a pure action shooting game in which the main objectives are to wipe out the enemy robots and rule the battlefield. The game offers various modes of playing having challenging missions so, its not kind of boring game. The game is much unique as in this you operate robots as a pilot which is quite attractive. The game has over 50 robots and 12 maps in which you can have 6v6 multiplayer matchmaking for the intense fight. I noticed that the purchasable items in-game are very expensive. The size of the game is quite large after installation hence, runs smoothly on high ram phones. Overall, the game is very good enough to play so, you freely get into it.
PROS
Unique Features
Lots of Maps and Robots
Supports Multiplayer
CONS
Glitches in Movement of Robots
Not Optimized for Low-End Devices
Expensive in-game Purchases
Review Breakdown
Gameplay

0

Performance

0

Graphics

0

Innovation

0

Popularity

0