Hey Guys!! We are back with another game review. If you guys love to play thrilling multiplayer games with lots of action then this one is for you. In this post, we are going to share a game review on a very popular Mobile Legends: Bang Bang. This is a very interesting action game developed and published by Moonton. It is a third-person action game with real-time 5vP battles in Multiplayer Online Battle Arena mode (MOBA). In this game two teams (5v5) battle against each other to take down the enemy bases over the control of three lanes. The game is too popular among the gamers and also in MOBA genre. The game is having a very good gameplay and in-game surroundings. The graphics and sound of the game are quite impressive.
This game has a real-time 5v5 battles against real opponents in the game. You have to fight over 3 lanes to take the enemy's tower and win the battle. The three lanes are known as top, middle and bottom, which connects the bases. Weaker computer-controlled characters, called minions, spawn at team bases and follow the three lanes to the opposite team's base, fighting enemies to destroy their towers. Each player of the team summons a character known as heroes, these heroes are categorized into Marksman, Assassin, Mage, Support, Fighter, and Tank. The battles are played on a matchmaking system and each battle is of 10 minutes. The players are matched with other players across the globe, displaying their country flags next to their character picks.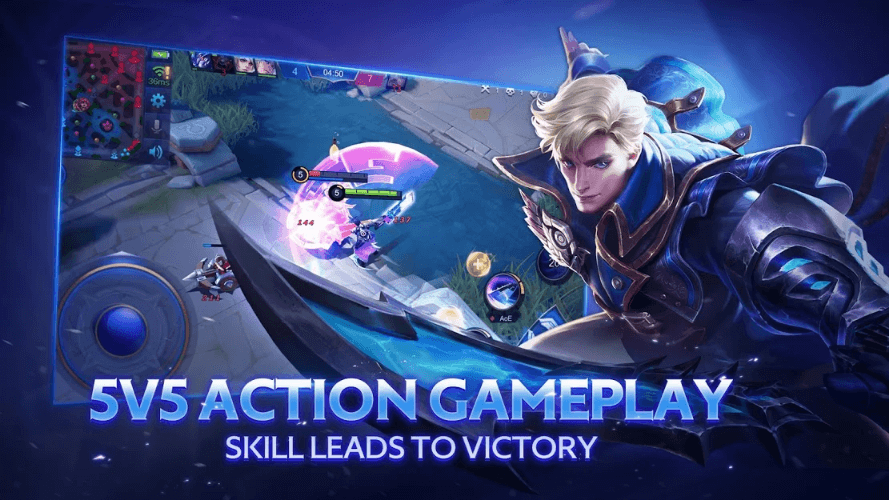 The win or loss of the battle is totally on your gameplay and strategical. You can block damage, control the enemy, and heal teammates to enhance your chances to win. The game has very simple controls which are quite easy to master. It has a virtual joystick on the left and skill buttons on the right, 2 fingers are all you need to become a master. It also has an auto-lock and target shifting that allows you to last hit more precisely. The convenient tap-to-equip system lets you focus on the battle. The most attractive feature of the game is that it provides fair matchmaking. Just like classic MOBAs, there is no hero training or paying for stats. The Winners and losers are decided based on skill and performance in the battle. It's really like Play to Win, not Pay to Win. The graphics and sound quality of the game are quite sharp and attractive. The game offers Smart Offline AI Assistance but I suggest you to have a good internet connection during the battles as opponents may kill your hero and you may lose your game. Mobile Legends: Bang Bang is available to download on both Google Play Store and iOS App Store.