Hello PUBG Mobile Players, Tencent has recently introduced a new character system in PUBG Mobile called Victor. This character "is a hardcore submachine gun geek, and his greatest joy is to hole up (in) his garage, research, modify and paint his submachine guns, which have reduced reloading time after his modifications." as prescribed in the description in the game. In this article, we are going to tell you how you can get this new character and what are the special characteristics of Victor.
How to Get And Use Victor
If you have noticed that a new tab called 'Workshop' has been added at the bottom of your screen in the lobby. You need to click on the Workshop tab and then choose the character option. Now you can see Victor on your mobile screen alongside the descriptions of his skills, story, his outfits, emotes and voice. Now you can see an option called 'Get for free', just click on that option and the character will be in use.
Alternatively, you can collect it by clicking on the gift box/event section option which can be found on the bottom right side of the screen. Now the themed tab will appear on your screen and by choosing the New Character: Victor from the drop-down menu, you will be redirected to activation of character. Or, in case if you have already collected it you will be redirected to reward-collection section.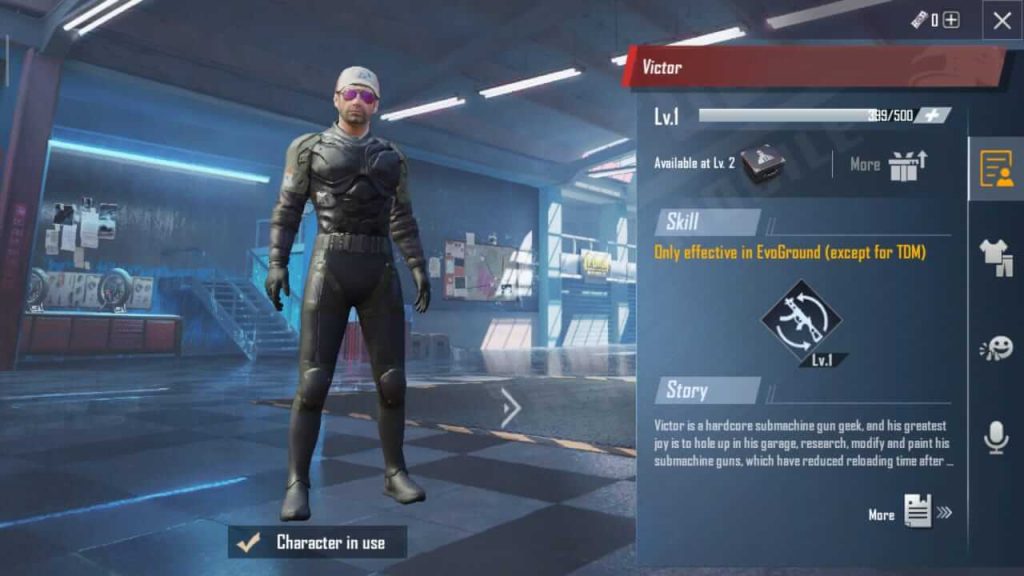 Special Characteristics of Victor
Firearm expertise of Victor reduces the reloading time when wielding a SubMachine Gun (SMG). He organically reduces reloading time of SMG by 4% and can be made 5.5% by upgrading victor to level 2. This new character has its own unique voice and gestures. The commands given by his voice is also different from the existing ones. This character also has three Exclusive upgraded outfit: Scorching Armour, Legendary Conquest, and Alloy Armour, and new outfits are expected in the upcoming updates. Scorching Armour can be unlocked by reaching on level 8, and the other two outfits can be unlocked through Shards.
Victor's skills work only in Infection Mode, Zombie: Survive Till Dawn and Zombie: Darkest Night modes, or it can be said that in all Evo Ground modes except Team DeathMatch. In classic and arcade mode, it appears without his SMG reloading power. The characteristics of Victor can be upgraded by either using EXP Card or by playing with him and earning to coupons to the Victor Supply Crate. In these Crates, you can get Victor's outfits, voice commands, masks, emotes, Character Shards and their premium versions to draw from.
Also Read: Now You Will Be Able To Fly Helicopters in PUBG Mobile
Stay tuned with Mobile Mode Gaming (MMG) for the latest PUBG Mobile News & Updates!