Brawl Stars has just announced its very first official eSports tournament titled 'Brawl Stars World Championship'. You can find out every detail about this Brawl Stars Upcoming eSports Tournament from 'prize pool details to how to register' in this post. So Let's Begin:
1

What is the Brawl Stars World Championship?

Brawl Stars World Championship is the very first main esports tournament of Brawl Stars, which is a great move by supercell to bring the game officially into the eSports segment. The Championship is offering a Prize pool of 250,000 USD which is similar to other top esports gaming events.
2

Format

The tournament has been divided into three main stages, namely open qualifiers, regional finals and lastly the live finals. Literally, anyone can take part in this event and as the stages progress, 8 teams will make it's way to the Finals which will be held in the month of November at South Korea.
Open Qualifiers
This stage is the stepping stone for any underdog. In August-September, open qualifiers will be held online, where Brawl Stars players will get the chance to compete against each other to find out the best teams in each of the regions.
Regional Finals
Regionals Finals will also be held online, Team who has qualified from the previous stage will now battle against each other, and only the best team of each region will move further to the finals.
Finals
The Finals will be hosted live in South Korea, where the final 8 teams will compete against each other to win the 2019 Brawl Stars World Championship.
3

Additional Details:
You can only sign up with a team of three players. All three players must reside in the same qualifier region.
All players must be 16 years or older as of August 12, 2019, to participate.
All players' Brawl Stars accounts must be in good standing and not have breached the Supercell Terms of Service. In particular, accounts must contain only legitimate purchases, if any, and not be shared with other players.
In order to participate in Regional Finals, you must own a passport and have the ability to travel to South Korea in November 2019 for the World Finals.
Additional detailed rules are posted when signing up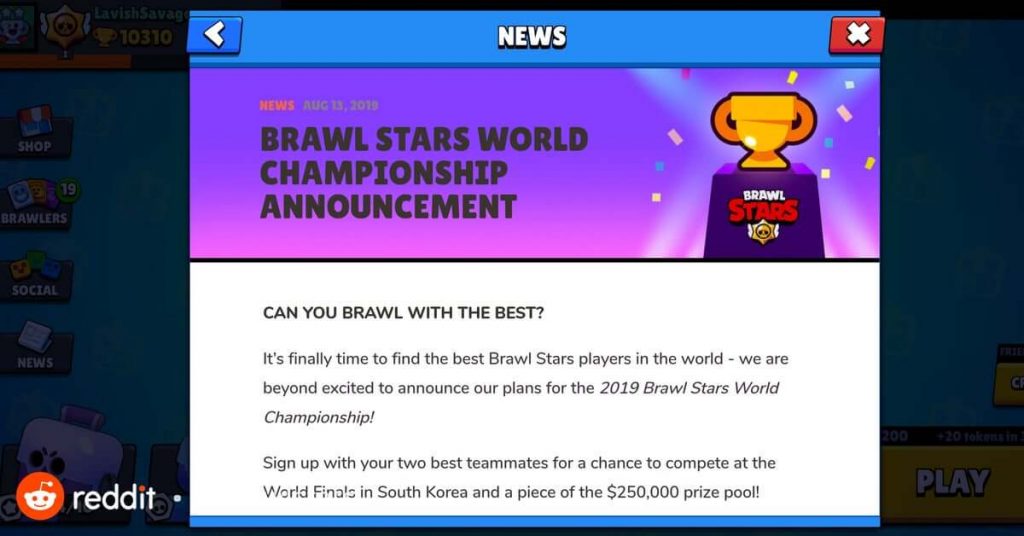 4

How to Register for Brawl Stars World Championship?

Click on the on your Region link to Sign up for Brawl Stars World Championship 2019.
Sign-ups for South-East Asia (including ANZ), Hong Kong & Macau and Taiwan are coming soon!
That's it for this post, you can find out more details about 2019 Brawl Stars World Championship by reading about the same on the official blog post of the game.