To the fans who are less aware, yes your favorite Mobile game Free Fire has collaborated with Money Heist, the most famous and trending crime series on the Internet. And there are going to be lots of exciting events during this period of collaboration, watch out!
Do you know Free Fire has introduced a new featured in-game event called Roll the Dice for the players to join and win the ultimate prize of Rapper Underworld M1887 Skin. What seriously? Personally, I'm definitely gonna check it out. But wait, let me first tell you more about this event so you get a fair idea of how this stuff works and you get the most exotic skin of M1887.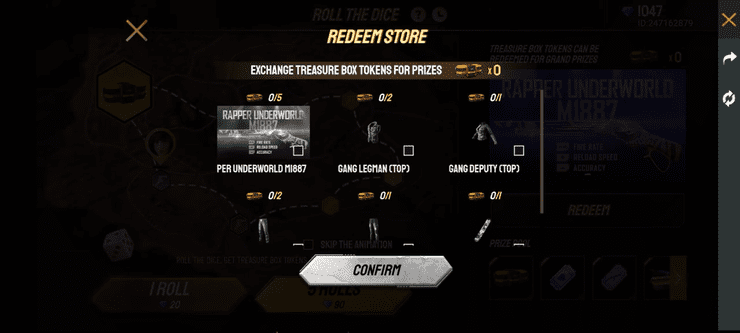 So the 'Roll the dice' event begins from September 7, 2020 up till September 13.
By going through the nomenclature, but actually what you have to do is to roll the dice. Based on the number you get, you roll over to different places on the board corresponding to the number rolled on the dice that adds up your position. Lastly what you get is prizes including Diamond Royale Voucher, Death M1014 Box, Urban Rager Gun Box, Spikey Spine AN94 Box, Biker Gun Box, Gold Royale Voucher, Weapon Royale Voucher, Celestial Street Badge, Pet Food, 50x Universal Fragments, Bounty Tokens, and Bonfire.
Nonetheless, in order to achieve your target to acquire the latest Rapper Underworld M1887 Skin, you need to roll into the Treasure Box Tokens. You will need two Treasure Box Tokens to exchange for the M1887 Skin.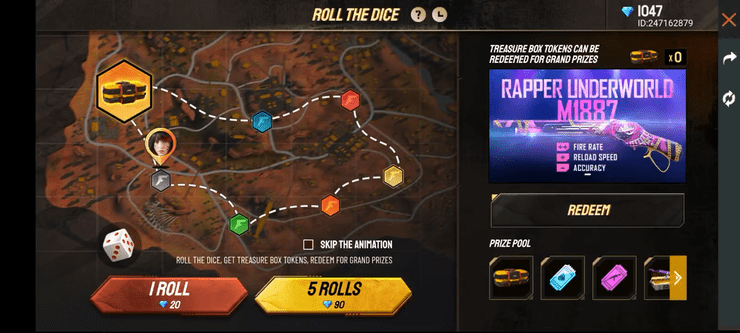 It is to be noted that you have a choice that you may exchange them for other prizes such as Gang Legman (Top)', 'Gang Legman (Bottom)', 'Gang Deputy (Bottom)', 'Gang Deputy (Top)', and the 'Rapper Underworld Surfboard'.
Furthermore, each rolled dice have a cost. You will need 20 diamonds to roll the dice once. If you're willing to purchase the gaming currency for the exchange, it would benefit you if you roll 5 times consecutively to get a saving of 10 diamonds.