Marvel Super War is one of the best MOBA games you can play on Mobile. I personally enjoy playing it and find it better than Mobile Legends and Arena of Valor. But the only problem with the game is that it lacks popularity, the player base is not big enough, and the main reason behind it is that Marvel Super War is not a global game.
Marvel Super War is a first-ever Marvel MOBA game, and it is developed as a joint partnership between NetEase Games and Marvel Entertainment. The game was first released in December 2019. Since its release, it is only available in certain regions, namely – Thailand, Indonesia, Philippines, Singapore, Malaysia, and India. At the time of launch, it was expected that the game would expand globally in the coming months.
But all hopes died when the Marvel officially confirmed that the game is not a global title and will be limited to only selected parts of the world. However, finally months after – another official announcement was made at the end of July 2020, which stated that Pre-Registration for Marvel Super War had begun in Japan, South Korea, Australia, and New Zeland.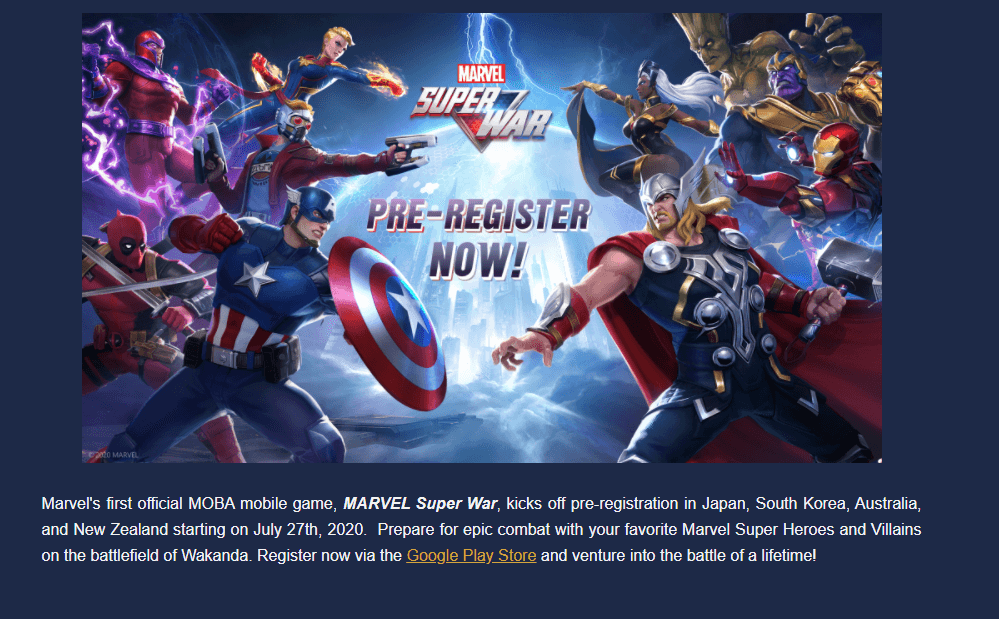 So it very clear that NetEase is preparing for the launch of the Marvel Super War in these new regions mentioned above. If you are a player residing in any of these regions, make sure to Pre-Register for Marvel Super War via Google Playstore.
Today the official tweeter account of Marvel Super War has further announced that the game will be launching in Australia and New Zeland and asking the players from these regions to Pre-Register, which further hints that the game might release in these two regions by the end of this month itself and then other regions such as Japan and South Korea will follow.
It is excellent news for not only the players living in the regions where Marvel Super War is about to release but also for others as well. Because it looks like NetEase and Marvel have decided to expand the game to more countries. We are expecting the game to be released in more and more countries throughout this year. Let's wait and see how it turns out to be.
---
Also Read: Most Popular Mobile Games of 2020