PUBG Mobile has come up with exciting free rewards for all the players in The Day vs. Night Event. There are many rewards available for a limited period. The Day vs Night Event is in association with the latest theme of Ancient Secrets Temple. The rewards that are available for free are in the exclusive theme of Ancient Secrets Temple.
Day vs Night Event Details:
The Day vs Night is an exclusive event in PUBG Mobile that is live from 4th August 2020 to 20th August 2020. Every player playing the game can participate and earn exclusive rewards.
The Reward system is based on the completion of Classic Matches. The player has to complete a certain number of Classic Matches to earn the exclusive rewards. The number of Classic Matches to be completed is mentioned in the event section.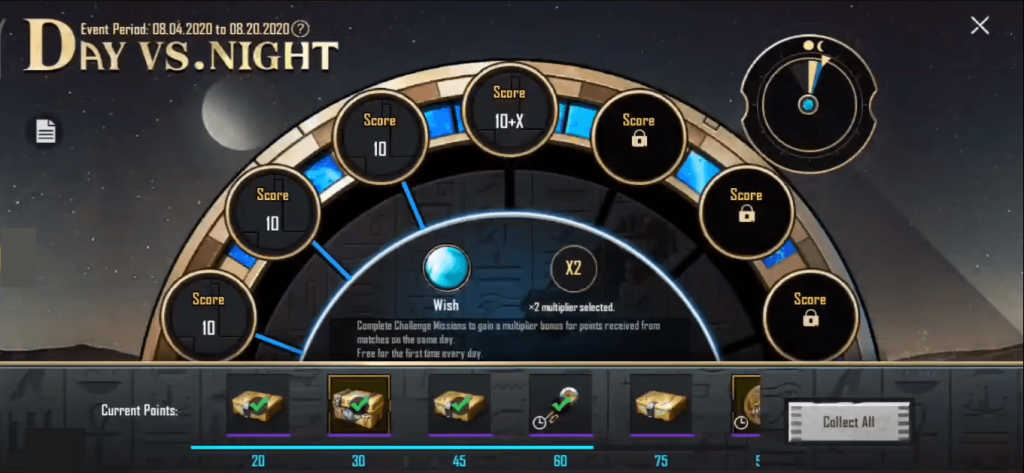 Day vs Night Event Rules:
You have to complete Classic Mode Matches to gain points and earn various rewards by accumulating points.
The event status will be refreshed every day at 00.00 UTC. Night mode will be activated as soon as you complete 3 Classic Matches.
You can tap Challenge in Night Mode and complete the Challenge Missions to gain a multiplier bonus for all the points gained from matches on the same day.
All the challenges must be completed before 22.00 Hours. Challenge after this time won't be counted.
The multiplier bonus can be changed on the screen anytime before the Challenge Mission. It cannot be changed once the challenge mission has started.
The first wish you make in the night mode is free every day.
Various rewards are available after gaining certain points. The most exciting is the Eternity Crate, which contains various gameplay skins and character sets.
Points and Rewards of Day vs Night Event:
The points system starts from 10 Points to 1000 Points. You earn various rewards like Key, Ancient Coins, Feather, and Eternity Crate at certain point intervals. Here are the rewards available in the Eternity Crate:
Golden Lock Parachute Skin
Hot Pizza Backpack Skin
Temple Guardian Set
Feather
Ancient Coins
Gameplay Gold
The duration of these rewards depends upon the number of levels you have attained. The Day vs Night Event can be visited by logging into the game and clicking the events tab on the bottom right corner. Participate in the event and earn the exclusive free rewards.
Also Read: PUBG Mobile: Free Redeem Codes Of 2020
Stay tuned with Mobile Mode Gaming (MMG) for the latest PUBG Mobile News & Updates!