Since the last two updates (OB21 Update), leaks suggest that 'Luqueta' character is coming to the game, but instead, we got to see Kapella in OB21 Update and Wolfrahh in OB22 Update and meanwhile Clu character also. Now time for a new update in Free Fire is approaching, and this time also leaks suggest that Luqueta is coming with OB23 update.
Now it is no more just a leak or wild guess anymore because Luqueta Character is really coming to Free Fire with OB23 update. It has been announced officially on Free Fire Brazil's official twitter handle. The character is also going to be available on the Advance Server opening from 16th July 2020.
For those living under rocks, Free Fire Advance Server is a place where developers try out all upcoming features of the game before release on global serves. Before OB23 update also, developers opening Advance Server to get access to which you need to register first. Check out how to register and download OB23 Advanced Server here.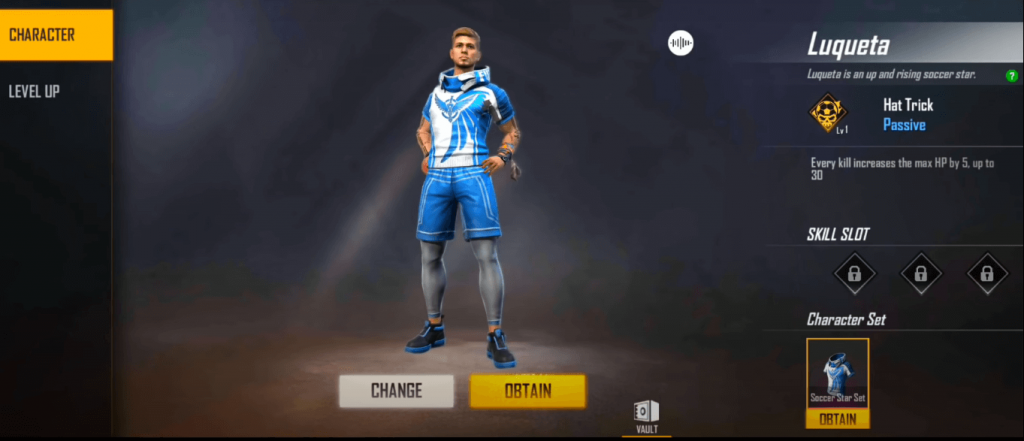 Coming back to the new character, it is going to be a male character called 'Luqueta.' It is going to be third real-life inspired characters in Free Fire after DJ Alok and Jota. Luqueta is inspired by Brazilian footballer 'Lucas Silva Borges', who is known for hat-tricks and hat-tricks.
Like every character of the game, Luqueta also comes with a special skill that helps him survive on the battlefield. Luqueta' special skill is called 'Hat-trick.' It increases his maximum HP by 5 up to 30 with each kill (default HP of Luqueta is 200). The character also comes with its exclusive 'Soccer Star Set'.
COLLECT LUQUETA'S MEMORY FRAGMENT TO UNLOCK
LEVEL 1: Every kill increase the maximum HP by 5 up to 30
LEVEL 2: Every kill increase the maximum HP by 6 up to 30
LEVEL 3: Every kill increase the maximum HP by 7 up to 30
LEVEL 4: Every kill increase the maximum HP by 7 up to 35
LEVEL 5: Summon Airdrop Playcard
LEVEL 6: Every kill increase the maximum HP by 8 up to 35
LEVEL 7: Winning Goal Banner
LEVEL 8: Every kill increase the maximum HP by 9 up to 35
His special ability must sound similar to that of Antonia, but it is not. Antonio already comes with default HP of 235, whereas Luqueta comes with default HP of 200, and with every kill, it keeps on increasing. So using Luqueta, you become more powerful with every kill. After release, to get the character, you have to spend 499 characters.
Also Read: How To Get Diamonds In Garena Free Fire
Stay tuned with Mobile Mode Gaming (MMG) for the latest Garena Free Fire News & Updates!