Believe it or not, but 90 out of 100 predictions of MobileModeGaming comes to be true. If you are a regular reader of MMG, then you must be aware that we shared the expected release date of the OB23 Advance Server on 10th July 2020, and as expected, it's finally here.
In this post, we will share how to register and download the Free Fire OB23 Advanced Server. From 10th July 2020, Garena has started taking registrations of Free Fire's Advanced Server. You must know that, before every update in the game, players get to experience upcoming features on Advance Server.
Registrations are being taken into two phases, the first phase is between 10th to 15th July 2020, and just after that second phase starts from 16th to 19th July 2020. With the end of the first phase on 15th July, registered players will be able to download and play the advanced server.

Here Is How To Register For Free Fire OB23 Advanced Server
Step 2: Click on 'Login Facebook'
Step 3: Enter Facebook Account Details and Login
The only option available is to login is with the Facebook account. You can only log into Free Fire Advanced Server with Facebook Account provided here.
Step 4: Fill Out the Details and Submit
Fill out details: Name, E-mail, and Phone Number, and click on 'Join Now'.
After following steps mentioned above, you have successfully registered for OB23 Advanced Server. As mentioned above, on 15th July 2020, you will be able to download Advance Server APK by following the steps mentioned below.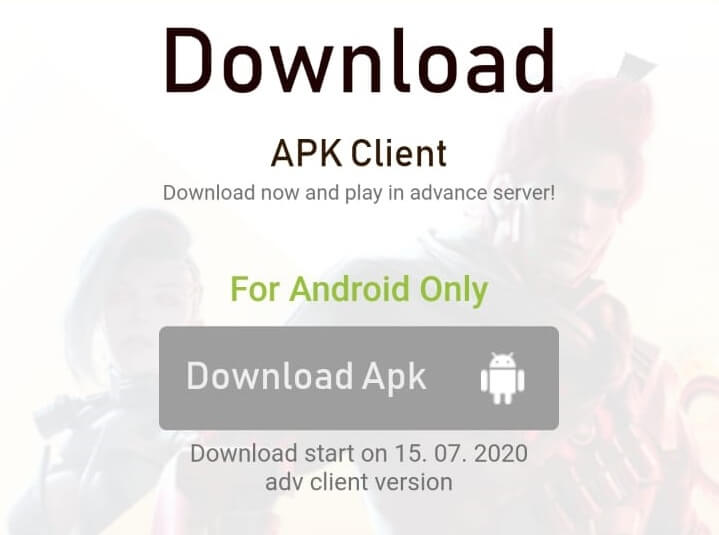 Here Is How To Download Free Fire OB23 Advanced Server
Step 2: Login With Facebook
Step 3: Click on 'Download APK'
Step 4: Go to Download Folder and Install the APK
After completion of the download, you need to install APK. You might have to allow installing unknown sources. For doing this, go to Settings -> Safety and Privacy -> Install Apps from Unknown Sources.
Step 5: Open the game and Sign-in with your Facebook Account
Enter your Facebook login details and start playing the game. Facebook Account should be the same as registered to the website.

By following the steps mentioned below, you have successfully downloaded Free Fire Advance Server on your Android device. You can download the advance server anytime between 15th to 19th July 2020. Keep in mind that the advance server is open for 8 days only between 16th to 23rd July 2020.
Get ready for trying out upcoming features of the game on Advanced Server. Also, don't forget to report bugs and glitches to developers using the in-game Report button, as the main purpose of Free Fire Advance Server is to make global version bugs free.
Also Read: How To Get Diamonds In Garena Free Fire
Stay tuned with Mobile Mode Gaming (MMG) for the latest Garena Free Fire News & Updates!