Free Fire has introduced a new event called 'Rampage Emblem collection' in the game that is live between 1st July to 13th July 2020. The Free Fire Rampage Emblem Collection Event is introduced as a part of the ongoing Free Fire Rampage II Uprising Event.

During the Rampage Emblem Collection Event, you need to spin and collect Emblem. To get the Rampage Emblem in Free Fire, you have to complete the milestone and collect rewards including the main prize Catastrophe Slasher skin that can be claimed after collecting all the emblems.
Let's start with how to collect Rampage Emblem in Free Fire? To collect Rampage Emblems in Free Fire, you have to complete daily missions; each mission gives you a chance to make a spin to get Emblem. The daily missions to be completed includes:
Daily Login
Kill 3 Enemies
Kill 6 Enemies
Play Rank Mode 1 Time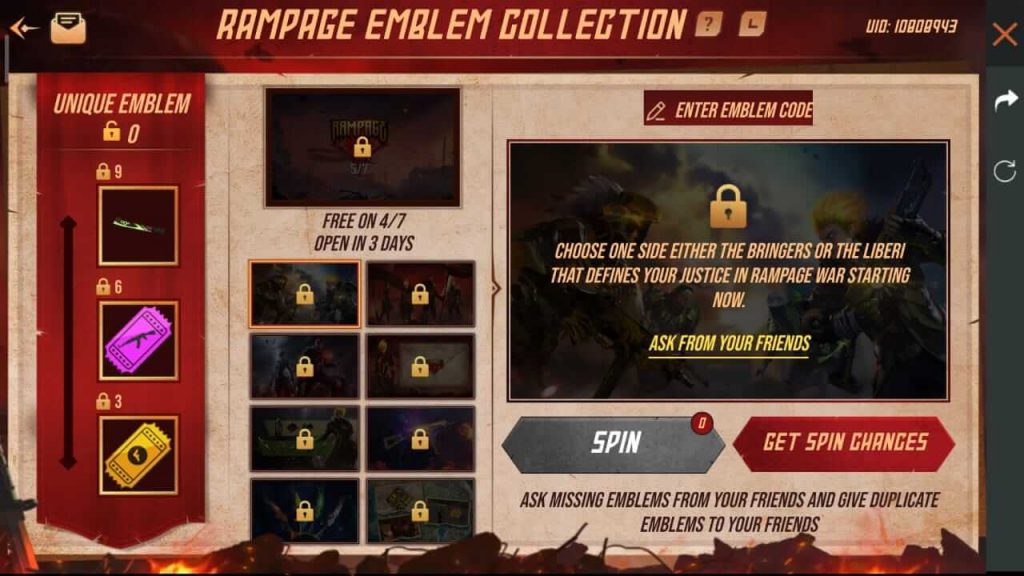 You can kill enemies in any of the preferred modes, and rank mode can be either battle royale or Clash Squad. After completing the daily missions, go to the event lobby and click on 'Get Spin Chances' to claim you Spins. After that, click on 'Spin' and make a spin to collect your Emblem (s).
To get the grand prize Catastrophe Slasher skin, you need to collect all the 9 emblems. The prizes available for collecting the emblems include:
Gold Royale Voucher – 3 Rampage Emblems
Weapon Royale Voucher – 6 Rampage Emblems
Catastrophe Slasher Skin – 9 Rampage Emblems
If you are not being able to get all the 9 emblems as you end up getting duplicates of some, you can ask your friends for the missing emblems. If your friends have a duplicate of the required Emblem, they can send it to you.
How To Ask For Rampage Emblem To A Friend?
To ask a friend for a missing emblem, select the required Emblem, and click on the 'Ask From your Friends.' Now an image will pop up on your screen; this image is the request for the Emblem. You need to share it with your friends through any of the external sharing methods such as Whatsapp, Facebook, etc. To share, either use the 'Share' button or take a screenshot.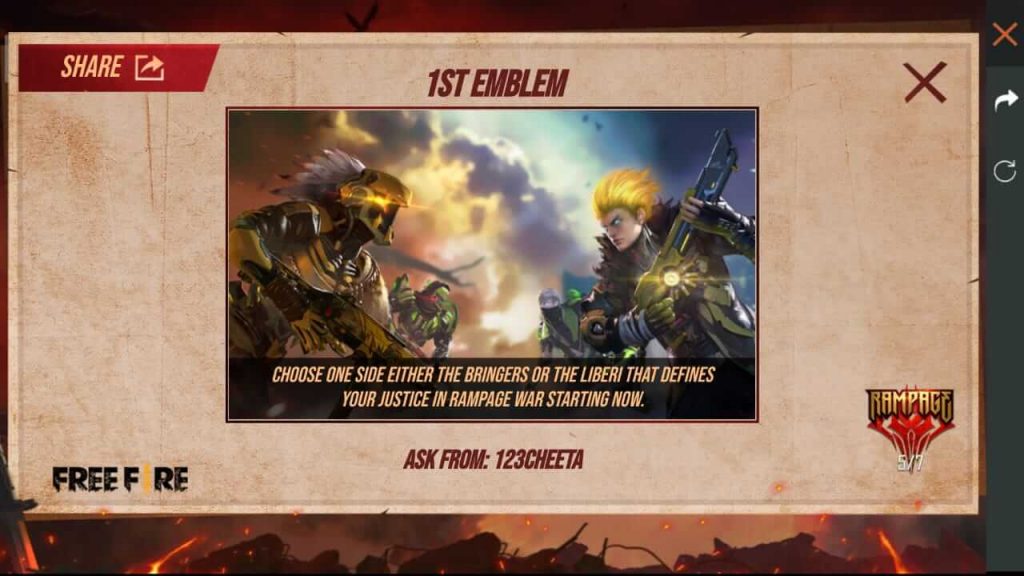 How To Claim Rampage Emblem Given By A Friend?
To claim a Rampage Emblem given by a friend, select the 'Enter Emblem Code' to enter the code given by your friend and click on 'Confirm' to submit. After that, the Emblem will be credited in your account, and the duplicate copy will be deducted from your friend's account.
How To Give Rampage Token To A Friend?
To give a friend your duplicate Rampage Token, select the Emblem and click on 'Give to Your Friends.' Now an image will pop up your screen with a code written over it. You can simply share the code with your friend and either use the share button or take a screenshot of the image to share it with your friend using external sharing methods such as Whatsapp, Facebook, etc. Your friend can claim by following the process mentioned above.
Also Read: How To Get Diamonds In Garena Free Fire
Stay tuned with Mobile Mode Gaming (MMG) for the latest Garena Free Fire News & Updates!