Within three days of its global launch, Call of Duty Mobile crossed over 35 Million Downloads, proving everyone in the gaming industry that this game is no Joke. Everyone knew that this is going to be a blockbuster hit, and once again, Activision has proved that no matter on what platform, the rule still rule the Shooting Genre.
Today, eight months after the release of the game, Sensor Tower has published the stats according to which the Call of Duty Mobile has crossed over 250 Million Total downloads worldwide. This figure represents installs of all the game's version irrespective of its publisher.
To give you an idea so that you can measure how big of a deal it is. PUBG Mobile and Fortnite Mobile were only able to get 236 Milion and 78 Million in their initial eight months of release.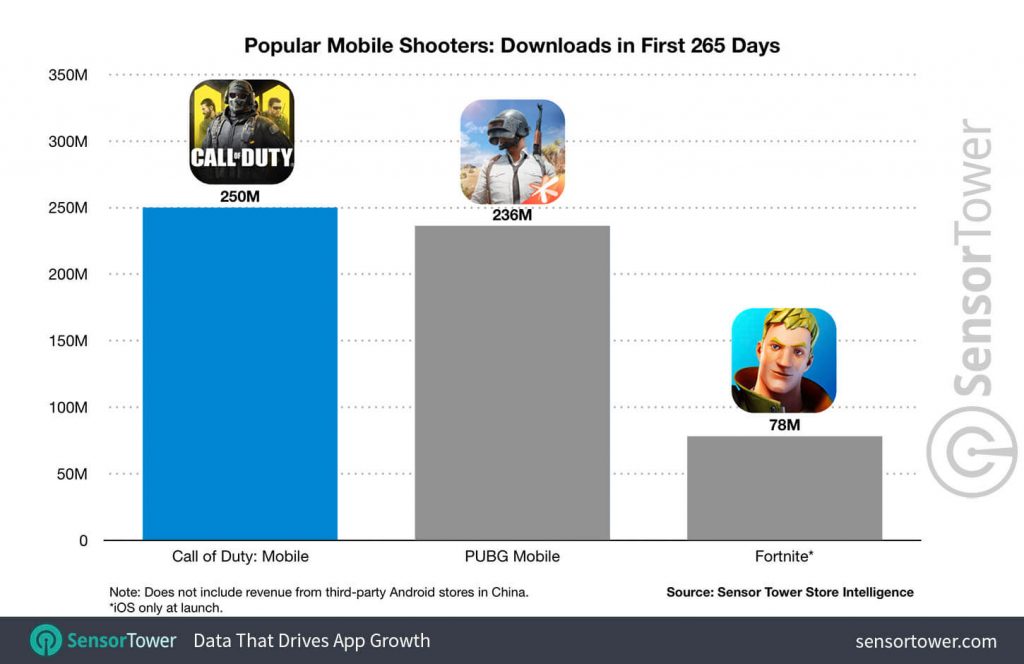 Talking of regions, Call of Duty Mobile is most popular in the United States, where it has seen nearly 45 million downloads followed by India and Brazil.
This news comes as a no big surprise, the developers of Call of Duty Mobile time and again keep releasing new updates and fresh content for the users, which keeps the current player active and attracts new gamers. Moreover, the in-game pricing of cosmetic skins and in-game gun skins are a lot better than Fortnite and Pubg Mobile. And this might be the main reason the game generated over $327 Million in revenue in these initial eight months.
To conclude, this is just the beginning of Call of Duty Mobile; the developers have already announced a Call of Duty Mobile World Championship for the current year, making it clear that COD Mobile will be a big name in Mobile eSports as well. In Short, it looks like Call of Duty Mobile will take on over Fornite Mobile and PUBG Mobile in every aspect in the coming days.
---
Also Read: All The Free Character Skins You Can Unlock in S7 Call of Duty: Mobile