FoxNext's Marvel Strike Force has the Power Up Milestone Event underway with great bonuses and milestone rewards. The event marks the right time to upgrade your ever-growing Marvel roster at a faster rate with thousands of essential Power Cores. Read further for more details on the event.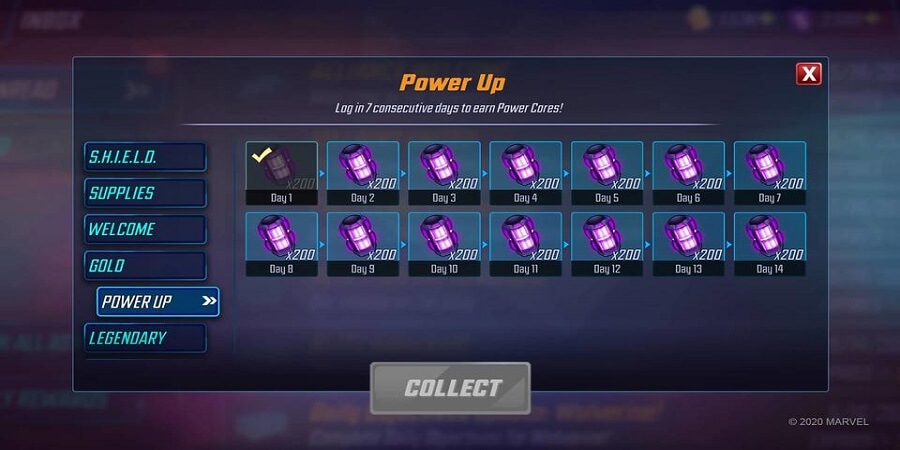 The Power Up Event has daily login bonuses, rewarding 200 Power Cores each day, accounting to an enormous total of 2000 Power Cores. Meanwhile, participating in the Blitz mode and Arena mode will also allow you to achieve milestones. Completing all the milestones, the power cores count can go up to 5000.
Power Cores are premium currencies in the game that can be used for Energy Refresh and these are available through daily missions, Arena rewards, levelling up or In-app purchases. Discounted In-game purchases of power cores are also available. The bonuses will be on the following events:
Quarter Blitz: Cost to re-use your characters in Blitz never exceed 5 Blitz Charges
Re-Energize: Reduced Campaign Refresh cost
Gear Blowout: Get 20% off purchases with Gold and Shop refreshes
Raid Frenzy: 20% Cost reduction for Raid Energy, Heals, and Revives in Raids
The reduced blitz charge cost will help you in climbing the points ladder in Blitz mode even further. Blitz charges are limited since they can be only obtained from daily missions and challenges. The raid energy refill credit is a rare currency in the game that's available only through special events or in-app purchases. So reducing the cost of raid energy will also keep you longer in the game.
Now you can also get the daily Free Energy within 3 hours after the normal reset time till the end of May. Free shards for Healers will also be rewarded every day with the likes of Medic, Doctor Strange, Night Nurse, Groot etc.
Marvel Strike Force is available on iOS and Android.