Call Of Duty Mobile and its Season 6 continues to add new elements into the game with the new "Gold Rush" event. The event starts on May 8. From an official unlisted in-game video, Gold Rush is looking like a similar item collectible event seen in the earlier seasons.
Collect Gold Bars from 2 different game modes and exchange them for special in-game items. Meanwhile, CoD Mobile is finally making extensive changes to its sole Battle Royale Map. The "Isolated" will now have 7 new locations. More on all of this below.
Call Of Duty Mobile: Gold Rush
The Gold Rush Event lets you collect Gold Bars from 2 different game modes as seen above: Kill Confirmed and Battle Royale. The New Kill Confirmed Mode will be available with the Gold Rush event, i.e on May 8.
Every Dog Tag from your kill will earn you the gold bars. Even if your friends pick up the Dog Tag from your kill, you will get the gold bar as well. Taking out an enemy will also fetch you the gold bars.
In the Battle Royale Mode, you can destroy barrels to receive the gold bars. The barrels will be found in different locations of the map. There will also be a Treasure Map which leads you to the Gold's location in Isolated. Discovering them will also get you some of the other items like the very handy Level 3 vests.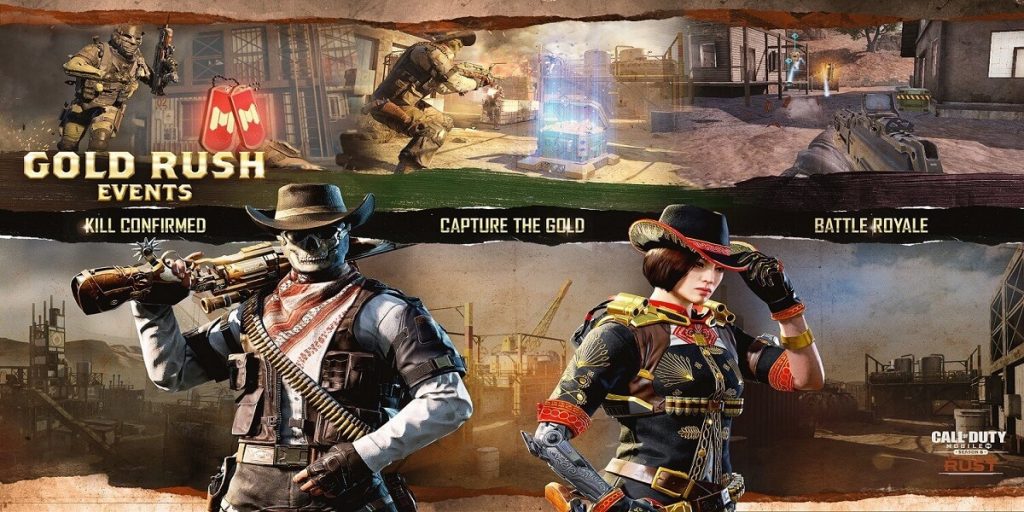 In a new system of gaining extra character XP, you can now equip weapon sets to receive a 25% bonus on character XP. Furthermore, a 50% bonus on Gold Rush Activity will also be activated with the sets. If the video stays true to every frame, The Gold Rush might last up to 130 days with almost 1000 gold bars required for an Epic Skin. One such Epic Skin featured is of an M4LMG. Other weapon skins will require 100 gold bars.
The Battle Royale Map Isolated is now getting 7 new locations. They are:
Shipyard
Wetland
Skitown
Hospital
Border Village
Black Market
Paramount
The map's new extension can be seen towards the yet unused lands in the north west, where all the 7 new locations will be situated.
Call Of Duty: Mobile is available on Android and iOS, with "Once Upon A Time In Rust" now live.
Also Read: Call Of Duty Mobile: Rust Map Tips And Tricks