Survival Simulation action games will always be a popular genre amongst gamers. The game not only tests your playing skills but also there is a hidden element with every proceeding level which excites the gamer. IP Kuznetsov has recently released a classic survival simulation game titled Last Survivor Diaries: Zombies Survival. This game is analogous to Royal Ark's Dawn of Zombies: Survival After The Last War. We have already reviewed the latter game, so make sure you check out to compare which one is better.
According to us, Last Survivor Diaries is one step ahead of DoZ. Although the story-line is almost similar, this game connects more directly to the gamers compared to DoZ. A brutal apocalypse came and tore apart everything. The resultant virus turned almost the entire population to a dead wasteland where the remaining survivor has to fight against zombies for his life. According to the story of the game, a highly advanced biological weapon was used that killed millions of people and those who survived eventually turned into dead zombies. The aim of the journey is to spread your survival story with the other survivors in the game! While you play the game, you need to evolve yourself, the surrounding, and even crafting various weapons and using different armors to kill dead zombies. The game teaches you how to evolve and survive among the zombies.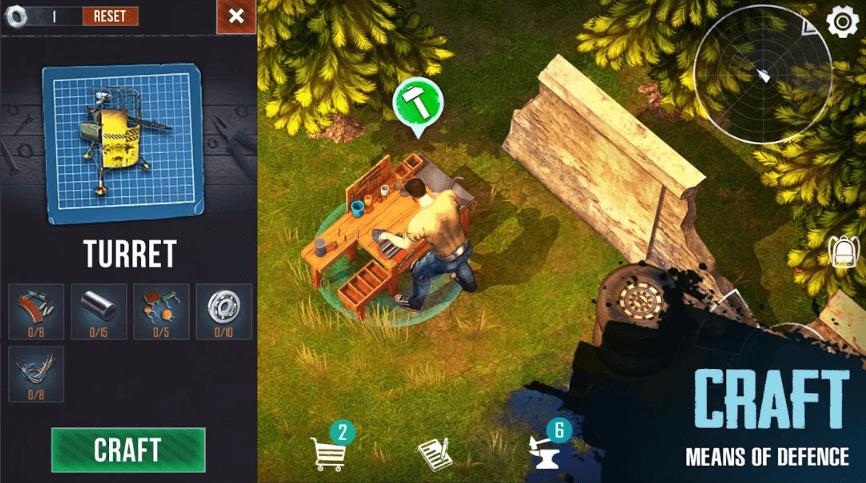 The unique feature about this game is that it allows a user to choose a sort of attack on zombies subject to their own survival. Even the best survivor may die due to lack of proper weapons and armors. There are various options to kill zombies; you can punch, cut, pierce, smash, shoot, set them on fire, or even blow them up! The aim is to make the almost dead zombies look even deader.
The game size is 101 MB and features provided by the game are well optimized as it is made with unity. You can pause the game and again continue from the point where you left last time. The background music is also smooth and in relation to what is going around in the game. The control options are simpler compared to DoZ.
The graphics of this game are more than awesome. The Zombies look dangerous and far more realistic than we envision them. The animation effect is also very accurate. Initially, the game takes time to load but then the overall gameplay is very smooth. There is no battery drain problem while playing this game as it is thoroughly optimized. However, in-app purchases are quite expensive and they become evitable at some point. Last Survivor Diaries: Zombies Survival  is available to download on Google Play Store.