Free Fire has introduced another major event in the game called 'Character Marathon' after the Wonderland Event. The Free Fire Character Marathon consists of various small events. You can check out the details about all events of Character Marathon.

In this article, we are going to share the details specifically about the Free Fire Character Mission Event in the Character Marathon. The Character Mission event is live in the game from 24th April 2020 to 5th May 2020.
As the name of the event itself suggests, you need to complete some missions using the specific character during the event period. There are a lot of missions to be completed in the Free Fire character Mission Event:
Play 3 Duo game in Casual Battle Royale Game – 50 Points
Play 3 Squad game in Casual Battle Royale Game – 50 Points
Play 3 Solo game in Casual Battle Royale Game – 50 Points
Kill 20 Enemies in Casual Battle Royale Game – 50 Points
Kill 40 Enemies in Clash Squad Casual Game – 50 Points
Deal 2000 damage to Enemies in Battle Royale Rank Game – 50 Points
Win Streak in Clash Squad Casual – 3 Times – 50 Points
Travel in game 5000 meters in Casual Battle Royale Game – 50 Points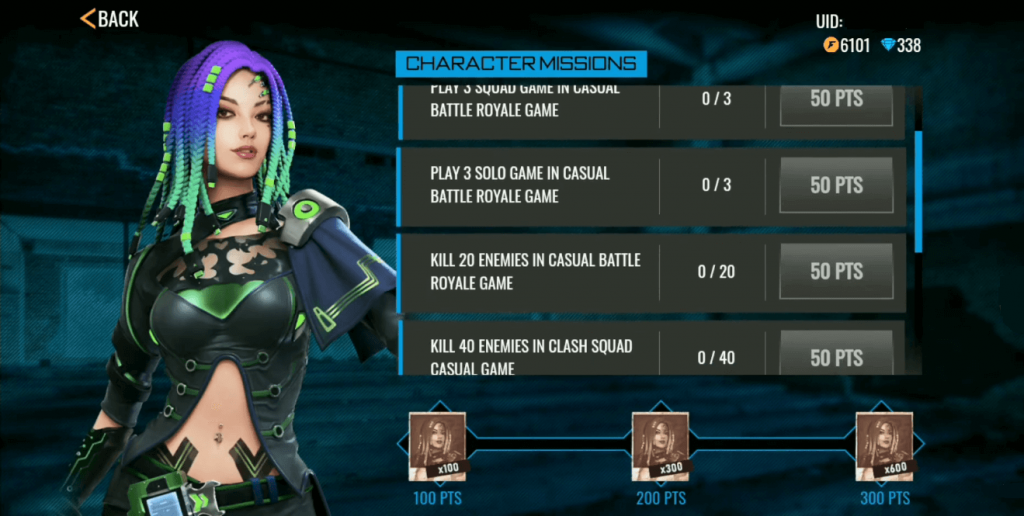 You earn 50 points for each mission, but what to do with these points? So the answer is, points can reward you with the character fragments, that you can be transformed into the Memory Fragment of any character and can be used for level up the character.
100 Points – 100 Character Fragments
200 Points – 300 Character Fragments
300 Points – 600 Character Fragments
You have to complete the above-mentioned tasks by playing with the character you want to level up. The missions are the same for all the characters, but the character fragments you get are only of that character by which you complete the missions.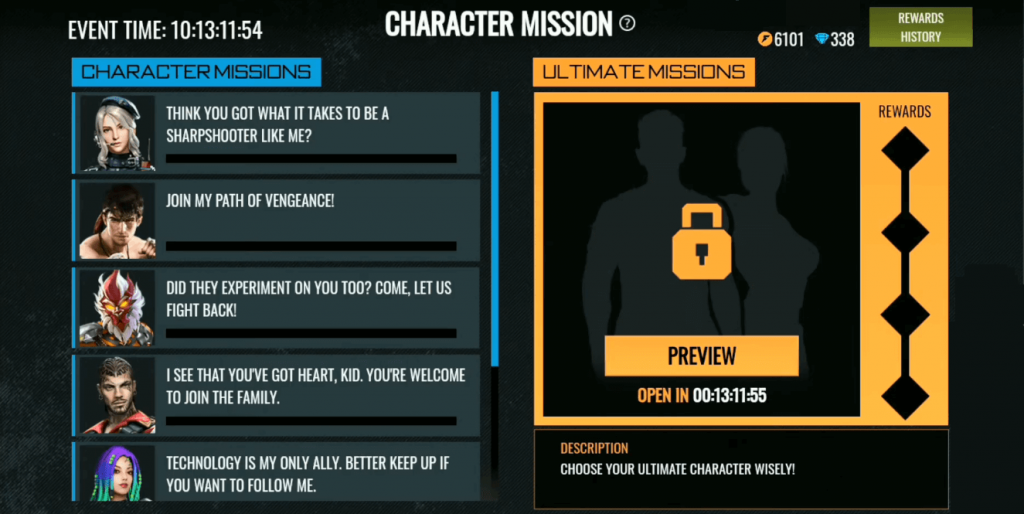 Apart from the Character Missions, you can also get to see 'Ultimate Missions' in the same section. Currently, it is locked but will get open on 26th April. In the 'Ultimate Missions' area, you can choose the character of your own choice and complete its ultimate missions.
There are going to be four exclusive rewards available for the same that includes Character Fragments and a permanent Character Bundle of your choice, but the missions to complete still remains the same.
Also Read: Here Is How To Write Stylish/Fancy Name In Free Fire
Stay tuned with Mobile Mode Gaming (MMG) for the latest Garena Free Fire News & Updates!