Free Fire introduced Kapella Patch in the game on 8th April 2020 that brought a lot of new features in the game. With the update, Clash Squad has gone Ranked, so keep on working hard to improve your rank apart from that the 'Explosive Jump Mode' has also been opened for the limited time. So the new update has changed a lot.
But as usual, Free Fire keeps on introducing new events in the game, such as Buy 1 Get 2 Free, Dino Strike, and many others. After them, a new event called 'Bunny Hunt' has also made its way to the game. In this event, you need to hunt the Bunny. The event period is from 10th April to 16th April 2020.
There are a lot of rewards that you can earn by participating in the event, but the grand prize you receive is the 'Punkster Bunny Bundle.'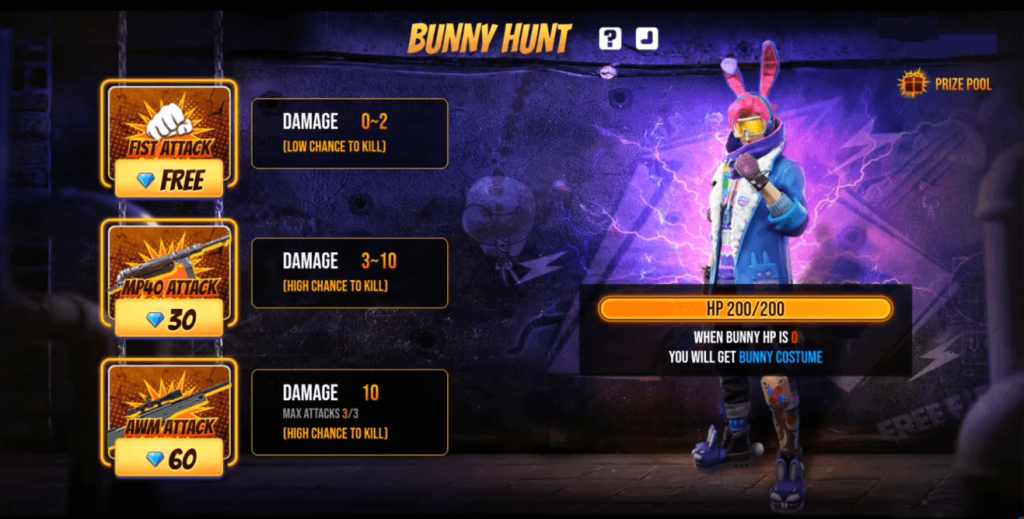 In this event, you need to hunt the Bunny, which comes with the 200 HP. You can use three types of weapons for hunting him that includes Fist, MP40, and AWM. Each of the weapons deals with different amounts of damage. By using these weapons when you reduce the HP of Bunny to 0, the grand prize will be yours. Apart from the grand prize, you receive various other small rewards for every attack.
For every attack, you need to spend some diamonds. The first attack of Fist is free, and after that, it costs 10 diamonds for each. The damage Fist attack deals are between 0 to 2 HP. Each attack of MP40 is available for 30 diamonds and deals with the damage between 3 to 10 HP. Each attack of AWM is available for 60 diamonds and deals with exact damage of 10 HP, but there is a limit of maximum 3 attacks using AWM.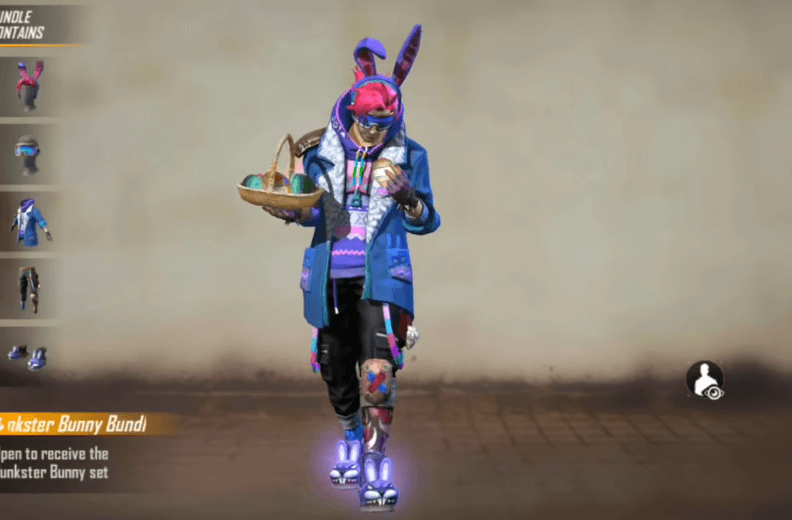 The rewards available for every attack include 6 prizes for fist attacks that include fragments and other small items. MP40 attacks include 6 prizes that are various Gun Boxes. AWM attacks include 3 prizes that are Weapon Royale Voucher, Diamond Royale Voucher, and Incubator Voucher.
All of these rewards will be sent directly into your vault, including the grand prize 'Punkster Bunny Bundle' that you receive as soon as the Bunny's HP reaches 0. So hunt the Bunny before 16th April 2020 and claim your Punkster Bunny Bundle.
Also Read: Here Is How To Write Stylish/Fancy Name In Free Fire
Stay tuned with Mobile Mode Gaming (MMG) for the latest Garena Free Fire News & Updates!