With over 600 Million total downloads and 50 Million daily active users, PUBG Mobile has gained massive popularity worldwide. Developed and Published by Tencent Game, PUBG Mobile has achieved success, which other gaming studios can only dream of.
However, as we all know – Achieving the number 1 position is easy, but maintaining it is the real task. Thus to keep the players indulge in the game and to keep the game fresh and attractive to new players. Tencent Games time and again keeps releasing new updates in PUBG Mobile, such as New outfits, In-Game Features, Maps, Weapons, and more.
Before releasing each update it is tested on a PUBG Mobile Private (BETA) Server, where only few selected players are Before releasing a new update in PUBG Mobile Global version, it is tested on a Private (BETA) Server, where only a few selected players are allowed to access. These players test the new upcoming features and updates in PUBG Mobile and give their feedback to the developers. Depending on the input, the developers then decide whether to introduce the latest update in Global Version of the game or dump it.
Tencent Games has, in the past, recruited PUBG Mobile Beta Test players, and once again, they have opened this opportunity to the PUBG Mobile Community. Yes! PUBG Mobile is recruiting new BETA Test players, and anyone can apply for it right now. This recruitment of PUBG Mobile Beta Test player was first announced at the Official Discord Server of PUBG Mobile.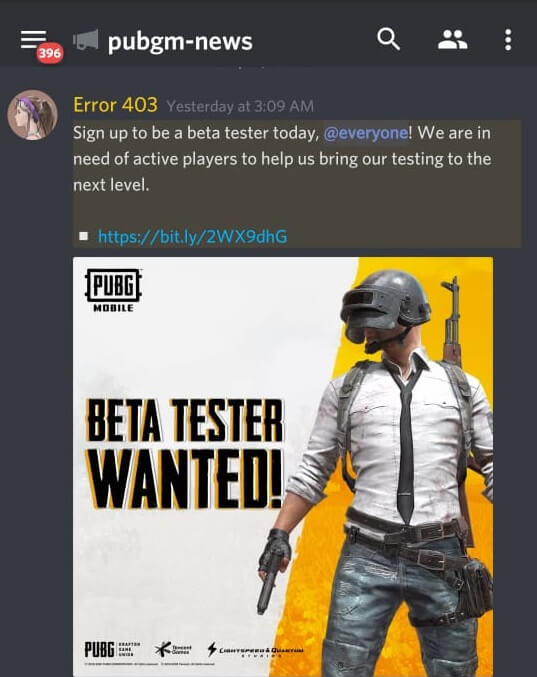 How To Become A PUBG Mobile Beta Test Player?
Open The PUBG Mobile Beta Tester Application Link
Fill The Form
Click Submit
Also Read: PUBG Mobile Fireworks Redeem Code – April 2020
Note:
1) The Recruitment is only available for limited-time.
2) If you are selected for PUBG Mobile Beta Testing Program, then you will be contacted via E-Mail with more Details.