Used Car Dealer is the brand new game recently launched by Dragonfly Entertainment and is available exclusively for the Android players. It makes you in charge of a car dealership business where you buy old cars and sell them at higher rates to get profits. The beginning of this venture will be slow and gradually you'll get yourself a fully settled empire of car dealership. You will have many employees and numerous people will visit the site for their needs. The game doesn't have many complications, but it's our duty to tell you all the basics. Also, this guide contains everything you need to know along with various tips and tricks.
The Basics of Buying and Selling
In the Used Car Dealership, as the name suggests, your aim is to attend the sellers and buy their cars for your showroom. You can bargain with them for a better price, but keep in mind that some of them might get angry on offering the low price. They'll go away and you won't have anything to sell to the buyers waiting alongside. Try to get the middle way and this will help you to buy more cars in the beginning, where you don't have much of a bank balance. Aside from buying, also focus on the selling process. You will have to attend the buyers and urge them to buy your cars. They will pay you more than what you bought it for, this chain continues and you'll have greater profits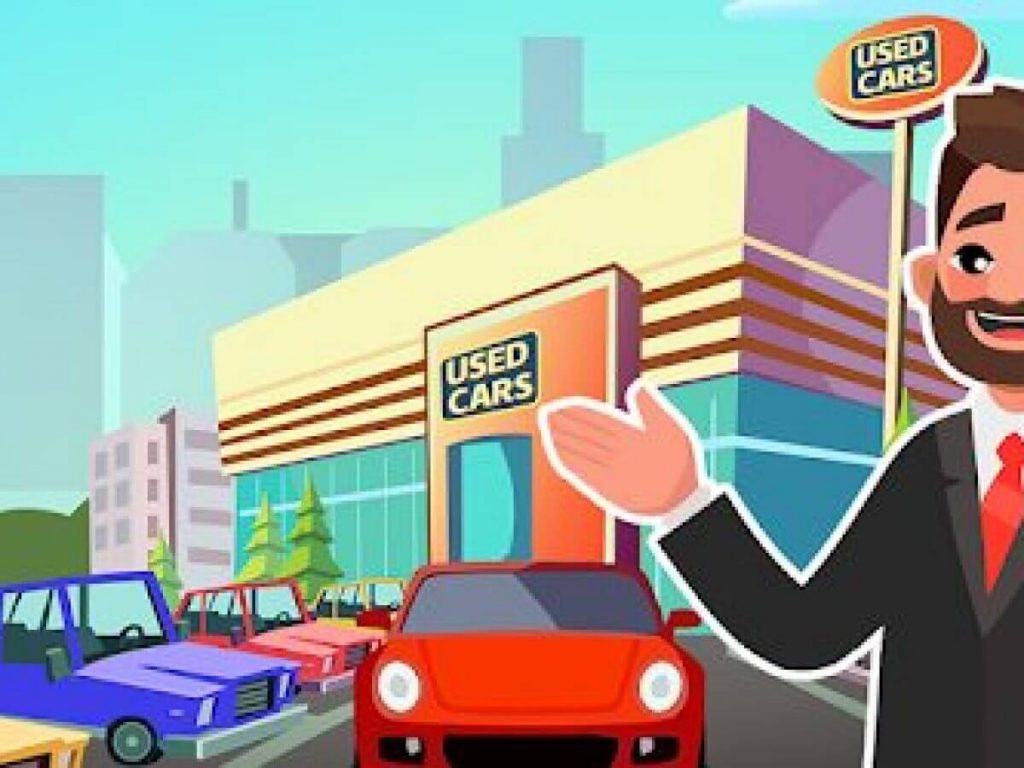 Improve The Bargaining Skills
One of the first things you have to do is to buy cars. The owner of the car will come to you in order to get rid of his old car. You'll interact with him and he'll offer you a price. Don't just tap the buy button, try to bargain and bring him down. Many a times, owners will accept your offer and also can sell you at even lower prices. Don't be afraid to click the bargain button as sometimes you might be able to hit the jackpot! Yes, the owner will agree to sell his car even at $1. This is a rare scenario but will happen once in a while. But remember, a happy customer is always a good thing.
Advertise to Attract Guests
Just like any business to prosper, we need to develop a better advertising procedure for it. However, in the beginning you won't have this option but later in the game, you'll unlock this feature. There's a small building near the person who buys cars for you. Tap on this facility to open up the option of advertising. It can increase frequency of both your sellers as well as the buyers. Try managing the numbers as per requirement. Don't focus too much on one thing. For instance, if you attract more buyers than sellers, there won't be much cars to sell and you'll have angry buyers all around. So, keep the track of your progress in each sector.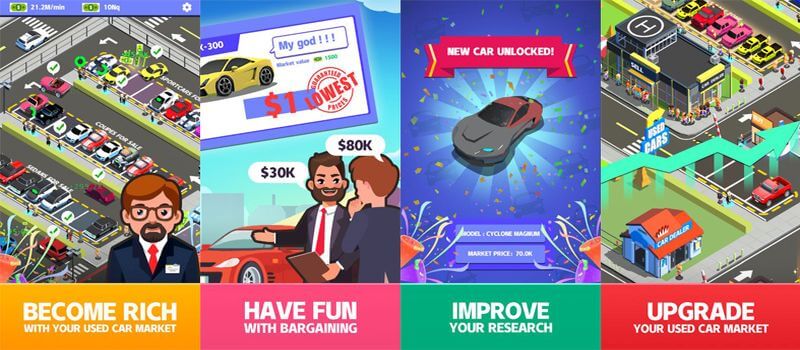 Upgrade Your In-Game Skills
There are a lot of things going in the game at the same time. These processes sometimes takes a lot of time and the speed of buying-selling is reduced as you'll run out of space in the parking lots. Always make sure to upgrade your employees to make they work more efficiently and a bit faster. In the Acquisition menu, you will have option to upgrade the buyer which will cost him less time to tackle the sellers and will also offer more discounts on the cars. Also, the employees working in the showroom can be upgraded to enhance their speed. Slow speed of your workers will not give you much profit and customers will leave with anger.
VIP Cars in the House
Used Car Dealership gives you a real experience of the cars business. Also, you'll see a VIP parking behind the Buy Building. Every 60 seconds, a special VIP vehicle will land their for sale. As usual, you can bargain with the seller but the process of bargaining is more interactive. When you click on the car, a tab with all the information about the car will show up and its price. Click on bargain and then you get 5 seconds to lower the price. Just tap repeatedly on the bargain button to lower down the bar of price. The goal is to bring that bar to the lowest price and buy it. If you don't click much fast, the bar will go on increasing automatically and hence you have to pay the maximum price. But remember, these cars as the name suggests will give you VIP profit too.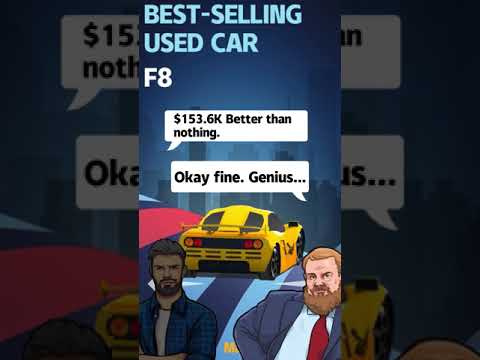 Watch Ads to Earn
If you have played similar games before, you will definitely be knowing that how crucial ads are to help you through. These ads will probably be the most effective as easy way to earn in-game cash. The most significant offer is the Welcome Back bonus. When you come back after several hours, the game offers you to double up the profits you earned while gone. I would recommend you to never hesitate to click the 2x option. You will have to see a short video ad and after completing, the you will be awarded with fat money. Keep regularly coming to the game to claim yoir bonus and earn high rewards.