Kabam has added a new hero in the Marvel Contest of Champion The Squirrel Girl where her event kicks off with Richard Rider (Nova) who is on a mission to hunt down Skrulls.
Squirrel Girl's abilities include Tippy-Toe, Bleed, Critical Bleed, Distraction, Injure, Combo Shield. She also has special attacks along with her signature ability. Using Army of Squirrels where the opponent gets swarmed by wild squirrels.
When you fight as Squirrel Girl you will be fighting for Acorns which can be later used to grab crystals, shards and rank up materials. Her strengths include High Bleed Damage, Bypasses Physical Resistance, Prevents Evades and Auto-Block.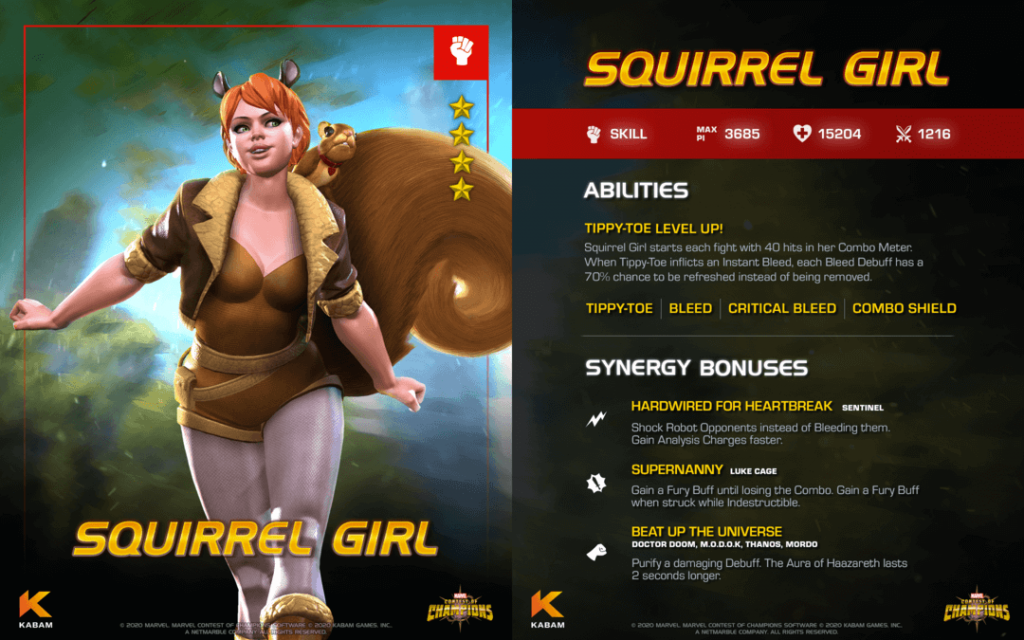 If you are unfamiliar with Marvel Contest of Champions it is a game where you get to assemble a mighty team of heroes and villains (choosing Champions such as Iron Man, Hulk, Wolverine, Storm, Star-Lord, Gamora, Spider-Man, Deadpool, Magneto and Winter Soldier) and embark on quests to defeat Kang and Thanos and face the challenge of a mysterious new super powerful cosmic competitor, ultimately to prevent the total destruction of The Marvel Universe.
Also Read: 10 Best Upcoming Mobile Games of 2020 You Should Keep An Eye On
Download Marvel Contest of Champions from Google Play Store and iOS App Store.
Stay tuned with Mobile Mode Gaming (MMG) for the latest Mobile Gaming News & Updates!