Payday: Crime War has been developed by Universal Studios Interactive Entertainment, It's a shooter mobile game where you will be playing the role of law enforcer and a heister. A full action-packed game which is worth to be on your phone. If you haven't downloaded it yet now, then what you are waiting for. For now, the game is under development. It is safe to say that Payday: Crime War might not satisfy PUBG lovers but you must give it a try.
Choose your name to enter into the world of Crime, which you can change later also. To know the game better you will be drilled with bots both as cop and heister, in which you learn to shoot and game goals. Soon you will know the controls are not so easy to handle because aiming and firing are on the same verge, which is a Hugh drawback because of this it is difficult to aim and shoot. Well, you have the option to change the controls from the setting option. Soon the drill will be over and you are drop at the war zone where you will fight with real players. It is a multiplayer game so you can invite the whole party and go multiplying with your friends and foes. You will be either cop or heister.
There are three modes available in the game which are a quick match, ranked mode and arcade mode. In which ranked mode you have to unlock by playing the matches and arcade mode is not available for now which is still in development. You have to unlock ranked mode to start your competitive career in the Crime War.
In the game, you will be getting lots of rewards. From cash, golds to inventories. The main thing in-game is to look for the safes which you have to save if on cop's side and loot if with heister's. You also get free safes every day, unlock them to get your everyday reward. There is also 'watch-an-ad option' to double your reward.
The characters are interesting, both cops and heisters with some splendid graphics. I am more on heister's side as it looks more horrific with his spooky masks and devilish expression on his face. You can check characters profile also unlock various characters with different skills, abilities, and techniques which will help you in the game. Equip them and upgrade heisters and law enforcers characters. There are numerous of inventories and masks which you can equip and unlock. You can also do in-app purchase with real money but mostly it is free which can be accessed easily by game money.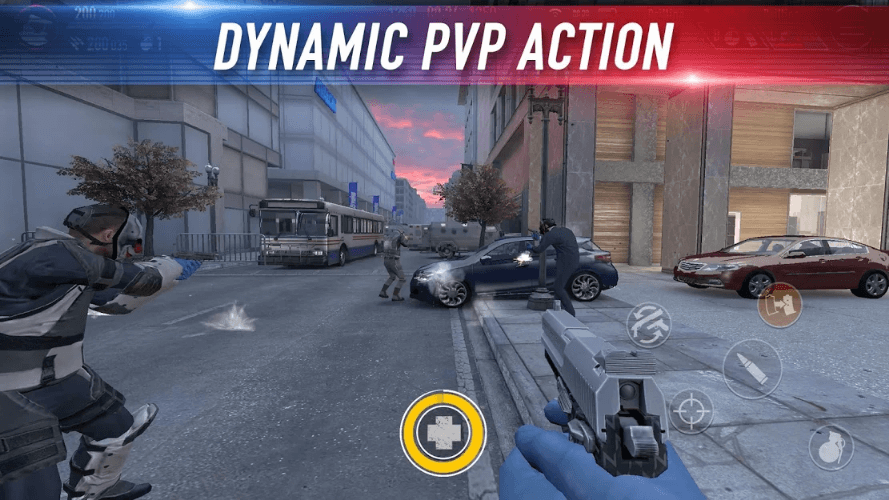 The game is solid as a rock it is a fun and interesting shooter game that you hardly make you bored. If you are action game lover then this game is worth to add in your collection. On one side, the villainous face of the heister is bewitching with his cocky attitude. And on the other side, the law enforcer with his sedulous work and poised attitude is the game lagniappe. There are tons of weapons to collect in the game.
The game graphics are nailing. The game city is interesting from where you don't wanna come out. Just low the video quality to run it smoothly on low-end devices otherwise the graphics will glitch. It runs in online mode only. Download this 525 MB Payday: Crime War from Google Play Store or iOS App Store.