Nordeus recently released its new strategy mobile game "Heroic – Magic Duel". This is a real-time online strategy game, in which you have to destroy your opponent's portal by using the various units of powerful spells. But you also have to prevent your opponent from destroying your portal. There is option of huge selection of heroes with unique spells, from Meteor and Hammer of the Gods to Chilling Wind and Giant Growth etc. You can pick your favorite one to defeat your enemies.
There are more than 20 different creatures are available, each of them have their own attacks, speed, values for life and so on. Their abilities can be level up by the paying the fragments which you earn by playing the game. You can make your own army of a total of 50 mighty minions, you collect them, upgrade their abilities and combine them into a Deck of invincible magic.
There are two mods available in the game PvP and PvE. In PvP you play against the real players from the world, and in PvE you play against the bots, PvE is a good option to develop your skills and to understand each and every hero. Collect the rewards which you got by playing the PvE events and do upgrade your heroes and bring destruction back to PvP mode.
If you love to play a Mobile Strategy Game, It is worth a try.

Mobile Mode Gaming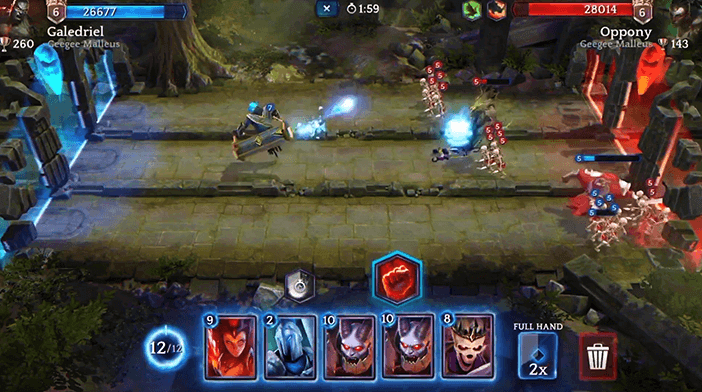 There are more than one way to prove that you are Heroic! There are three leaderboards to climb: Global, Local and Friends. Become the topper in the leaderboard to prove that you are better than others. In conclusion Heroic – Magic Duel is a strategy based mobile game with fast-paced and fun gameplay. It also has the average graphics. Unlock the lots of units, heroes and spells, level up and become the Heroic!
This is hard to say, exactly what I did not like about the game, But the above mentioned things are the one which every strategy game has, there is nothing new introduced in this game. And also the lanes in the game are too small, which ruins the player's experience of playing strategy game. There a lot of minor things which need to be changed, and it is expected that the developers will improve the game in the further updates. You can download the game from Google Play and App Store.