Dungeon Shooter: The Forgotten Temple is currently available for free in the sale on Google Play Store. The sale ends on October 8, 2020. The game is a 3D FPS with an RPG concept. A thrilling and nerve on edge shooter game. The players are shooters that step cautiously into tombs and dungeons to combat fearsome creatures and hunt for treasures.
About The Game:
The players or shooters are started off from an entrance hall and adventured into tombs and dungeons, fighting creatures that include big spiders, snakes, zombies, mummies, etc. The shooter fights the combat with a pistol at the starting level and progresses to grasping automatic rifles, shotguns, etc. after eliminating the boss.
The game has lots of content and multiple gaming elements, including pets, artifacts, runes, guns, etc. The shooter is accompanied by a dog at the start. As a companion, it fights with the shooter to help eliminate creatures. The combination and fun increases as the snake and dog fight along with the shooter. Pets can be created as the game continues.
The major thrill of the game is killing the boss and collecting rewards. Indulging in combat can turn out hefty if gemstones are not destroyed. Gemstones are like a source of power. Three gemstones and destroying each can reduce the abilities of the boss. New weapons are got by killing the boss. Taking the challenges that the guard put forth and killing the boss can get you weapons or DNA.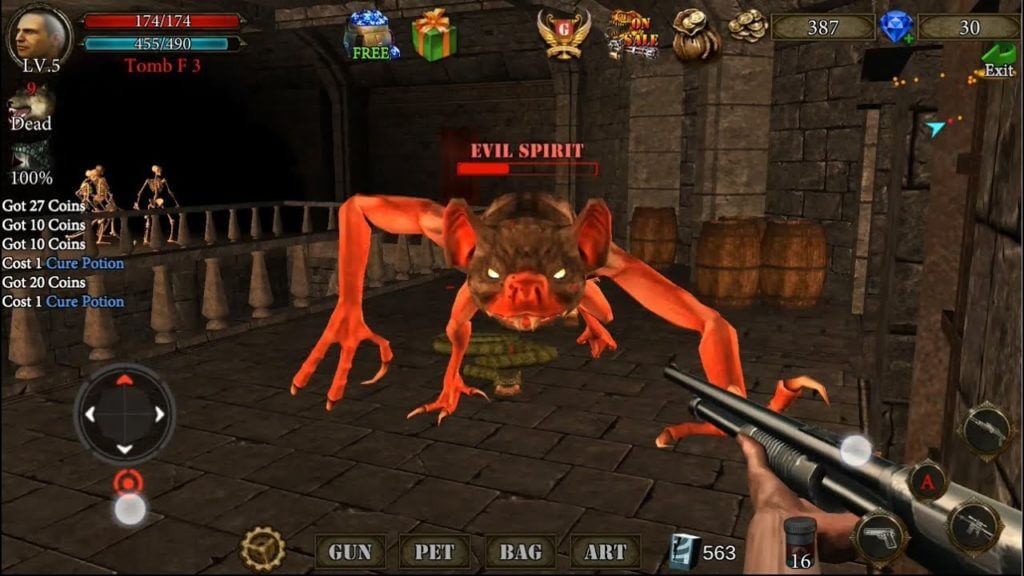 Dr.Reyna helps in creating pets. Going to her and using DNA and life genes in life synthesis panel brings pets that you can accompany in your quests. Artifacts are created by crafting treasures which are obtained by opening chests throughout your exploration. Equipping these artifacts increases the character attributes.
That's all about the game that offers a wonderful gaming experience for gamers who love the combo of adventure and shooting in games.
---
Dungeon Shooter: The Forgotten Temple is available to download for free on the Google Play Store. That's it for this post! Stay tuned with MobileModeGaming for the latest mobile gaming news & updates.