Free Fire has received its OB24 update on September 24, 2020, which has brought many new features to the game with a new gameplay experience. With all this, the piece of good news is you can get the Golden Skin if FAMAS for free in Free Fire. In this post, we will share the complete details about claiming the free skin.
The Golden FAMAS skin has been brought as an exclusive rank up reward in the Clash Squad's Ranked Season 3. There was 'Golden Desert Eagle' in Clash Squad Season 1; later, Season 2 brought 'Golden G18'. These skins could be collected after reaching the Gold III rank by playing Clash Squad Ranked matches.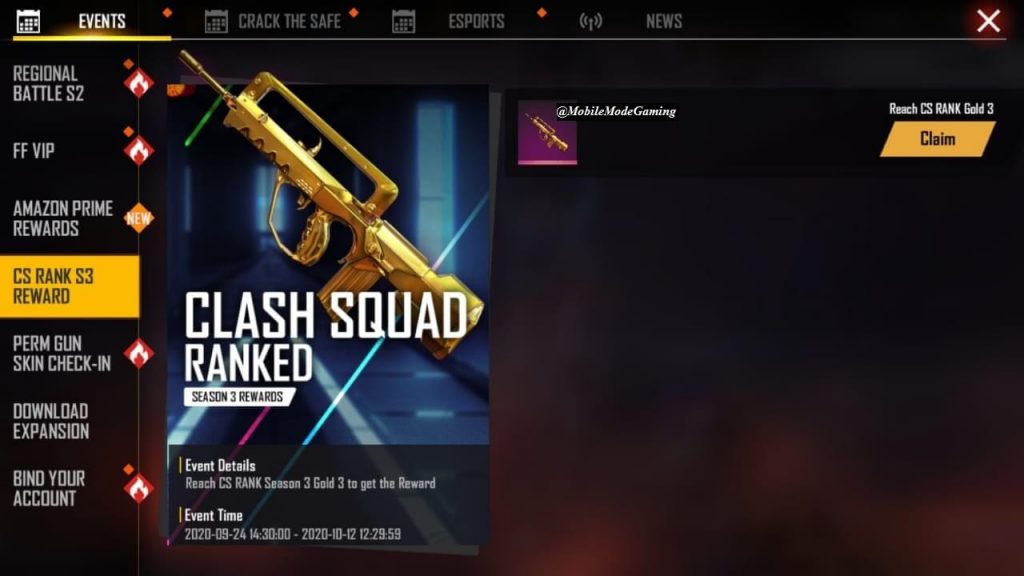 Similarly, in the Clash Squad Season 3, the 'Golden FAMAS' has been made available as an exclusive reward for reaching the Gold III tier. Remember, your rank/tier increases only when you play Clash Squad Ranked matches, not in the regular matches.
After reaching the Gold III tier, head to Events -> CS Rank S3 Reward tab and claim your free FAMAS Golden skin. Apart from the Golden Skin, there are various other ranks up rewards. These are the rewards we hardly bother about i.e., playcards, character fragments, vouchers, etc.
---
So put all your efforts and reach the Gold III tier to claim your free Golden FAMAS before the season ends. That's it for this post! Stay tuned with MobileModeGaming for the latest Free Fire news & updates.